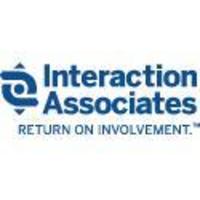 This drive for a shared purpose is one of the reasons that sustainability, as well as collaboration, is of great interest to for-profit and non-profit organizations alike
(PRWEB) July 20, 2009
Cambridge, MA, July 20, 2009 -- The 40-year innovator of advanced methods for developing leaders, Interaction Associates, and its nonprofit sister organization, the 16-year Interaction Institute for Social Change, have partnered to present a special leadership development session that emphasizes cross-sector collaboration in Portland, Maine at the Greater Than Conference, July 26-28, 2009.
The session, entitled "Accelerating Leaders' Competence for Cross Sector Collaboration," examines the opportunities created by a growing awareness of the importance of sustainability for 21st Century leaders. "We are excited to share our research and experience with the cross sector leaders participating in the Greater Than conference," said Linda Dunkel, President and CEO of Interaction Associates. "We know this session will create excitement and momentum for leaders attending Greater Than, spurring them to do even more in the areas of economic, environmental and social sustainability," Dunkel said.
According to the Greater Than Conference organizers, organizations facing finite resources and complex challenges are partnering across sectors to effect change and get more powerful results.
Recent research into the intersecting areas of trust, leadership and collaboration conducted on behalf of Interaction Associates revealed that one characteristic of high-performing organizations is that organization members have a strong sense of shared purpose. "This drive for a shared purpose is one of the reasons that sustainability, as well as collaboration, is of great interest to for-profit and non-profit organizations alike," Dunkel said.
More information about the Greater Than Conference can be found at http://www.greaterthanconference.com/index.php.
An Executive Summary of Interaction Associates' Research on Building Trust in Business is available here: http://www.interactionassociates.com/ideas/2009/07/timely_research_on_building_tr.php
Information on Interaction Associates' accelerated leadership development option, which emphasizes sustainability for global leadership success, is available here: http://www.interactionassociates.com/services/accelerator.html
About Interaction Associates
Interaction Associates (IA) has 40 years' experience in helping companies find breakthrough solutions to business challenges. Fortune 500 companies, government agencies and nonprofit organizations throughout the world have used IA's integrated management consulting and learning and development services. Interaction Associates helps these enterprises set strategic direction, inspire commitment, and build leadership capabilities, leveraging the power of collaborative action for long-term, sustainable results. Learn more at http://interactionassociates.com/
This press release was distributed through eMediawire by Human Resources Marketer (HR Marketer: http://www.HRmarketer.com) on behalf of the company listed above.
###