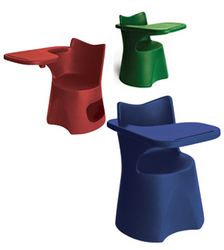 Clearwater, FL (PRWEB) July 21, 2009
Not only music players, mobile phones and computers are cool; introducing the Qdesk, the new innovative school desk that will put the cool in the school.
If something as boring as a phone can be cool, why can't learning places be fun and cool too? The Qdesk will give the classrooms the fun look that kids will love. This award winning school desk is made in one piece with 100% recyclable polyethylene and is now available for schools in America and Europe.
The Qdesk will also make the schools and students environmentally conscious.
Isn't that cool? Tell the school's Principal and Teachers about the Qdesk so they can learn more about how easy is to give the school classroom a "cool" and "environmentally friendly" make-over with the Qdesk.
Qdesk will soon offer schools the opportunity to have customized desk tops with environmentally friendly tips for our children. This is a great way to educate children about current environmental issues and help foster an environmentally conscious generation by providing a living conscious approach during normal student activities.
Qdesk is very durable and easy to maintain, the custom tops will also increase the durability and overall life span of this product; they can be easily installed onto the Qdesk by anyone at anytime creating a "like new" look and feel all the time. These new tops will be available starting in 2010.
The Qdesk is priced very competitively to help the schools create the classrooms that children will love and embrace the eco-friendly initiative. There are stimulus funding packages available to schools that want to take advantage of a green initiative in their facility. Contact the Qdesk representative today to learn more about it.
Today about 55 million students and 5 million faculties spend most of their day in an educational facility, that's 20% of the America's population. Imagine the impact that can be made by taking an eco-friendly action in schools using eco-friendly furniture to educate future generations.
Qdesk represents the next generation of cool, fun and sustainable school furniture and is offering schools a great way to go green while saving some green.
To learn more about how to convert schools into a cool and eco-friendly learning center contact us at http://www.qproducts.net or friend Qdesk at facebook.com
For more information contact the company using the attached contact information.
###