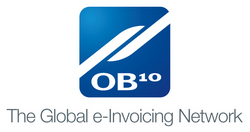 Atlanta (PRWEB) July 21, 2009
OB10, the leading global e-Invoicing network, and IOMA, the acknowledged leader in providing practical information to the accounts payable profession, will co-host a complimentary webinar titled Overcoming the Top 7 Barriers to e-Invoicing on Wednesday, July 22 at 1:00 PM EDT.
Webinar participants will learn the benefits of e-Invoicing over front-end imaging alternatives such as OCR and be able to determine whether an e-Invoicing solution is right for their company.
The webinar will be presented by Donna McGuinness, Director, OB10 Western Region and Andy Dzamba, Editor AP Publications - IOMA, Inc.
To register for the complimentary webinar, please visit the registration web site at: https://www1.gotomeeting.com/register/597236312
About OB10
OB10 (http://www.OB10.com) is the leading global B2B e-Invoicing network. OB10 simplifies and streamlines the complex invoice-to-pay processes. Neither client organizations nor their suppliers are required to implement any hardware or software, and OB10 is independent of data file formats. OB10 can reduce the cost of paper invoice processing by typically 60 percent and can deliver an ROI in less than a year if the program follows OB10's best practice guidelines. Operational across Europe, North America and Asia, OB10 is compliant with the requirements of VAT, tax and e-Invoicing legislation and receives invoices from suppliers in over 100 countries. To ensure unrivalled and rapid supplier enrollment, each new customer's suppliers are supported by an implementation services team responsible for getting them up and running on the OB10 network.
Customers include: Agilent Technologies, Apple®, BP, Barclays, Cargill, DHL, DSG International, Eli Lilly & Company, Fisher Scientific, General Motors, GlaxoSmithKline, Hewlett Packard, IBM, Kellogg's, Kraft, Logica, Lufthansa, Mohawk Industries, Motorola, Norwich Union, Pfizer, SaraLee, Schneider Electric, Shaw Industries, Steria, US Federal Government, VWR and Xerox.
###