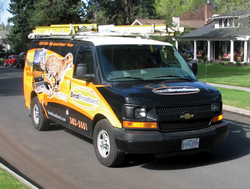 BendBroadband has a great reputation with its customers in Oregon, and implementing our solution is another sign of their commitment to the customer experience.
Cleveland, OH (Vocus) July 21, 2009
SageQuest, a leading provider of vehicle tracking and management solutions for broadband providers proudly announces a new implementation of its GPS fleet tracking and management solution, Mobile Control, with BendBroadband in Bend, Oregon.
BendBroadband offers broadband, digital cable TV and telephone services in central Oregon, and recently outfitted its fleet of sixty-five vehicles with Mobile Control and integrated the system with the vehicles' Garmin navigation devices. "We're excited to partner with SageQuest and support our technicians and customers with real-time information that improves our service and efficiency," said Brett Anderson, BendBroadband's VP of Plant Operations. "Due to the alerts for speeding and idle time, we are able to decrease our fuel expenses. Also, we've increased customer satisfaction because now we can route the nearest technician for service calls. This has saved approximately 30 minutes between dispatchers and technicians."
BendBroadband will leverage Mobile Control's real-time mapping, alerts and reports to gain more insight into daily field activity. Using the Mobile Control solution integrated with Garmin, dispatchers will be able to create a list of stops and push the routes to service technicians in the field in real time. They can also send messages to technicians' Garmin units for quick responses to critical questions. "Our technicians quickly adapted to the Garmin unit. They no longer need to refer to paper maps or call in to Dispatch for directions," stated Brett Anderson.
SageQuest presently has tens of thousands of units in service across the country including the broadband industry. "We happily welcome BendBroadband as a new customer in a key industry," said Karl Weber, SageQuest's Director of Broadband Market. "BendBroadband has a great reputation with its customers in Oregon, and implementing our solution is another sign of their commitment to the customer experience."
About SageQuest
SageQuest, LLC provides proven GPS fleet tracking and management solutions that improve the efficiency and productivity of mobile workers for utility, cable and broadband companies throughout North America. SageQuest's Mobile Control complements workforce management tools to provide real-time insight into technician and vehicle activity, providing actionable decision-making information for dispatchers, supervisors and executives. Mobile Control is a software-as-a service (SaaS) solution which helps customers minimize their upfront capital investment. For more information about SageQuest, visit http://www.sage-quest.com or call 888.837.7243.
About BendBroadband
BendBroadband is a family-owned, Oregon-based company serving Central Oregon since 1955. A leader in the cable sector, the company offers an extensive range of broadband, cable and telephone services for commercial and residential customers. Facilities include over a thousand miles of fiber and coax infrastructure along with a metropolitan optical Ethernet serving the business community. BendBroadband offers multiple high-speed Internet and phone options, Video on Demand, digital video recorders, 100% digital cable, HDTV (including 77 HD channels) and a choice of interactive program guides. In the community, BendBroadband provides extensive local sports and civic programming created and produced by COTV, channel 11. The company focuses its corporate contributions and sponsorship efforts on children and youth, and by supporting arts and entertainment in Bend, Redmond and Sisters.
###