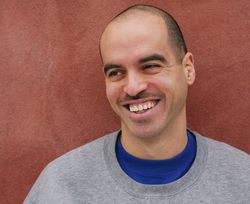 Bobbito was a natural fit for us in our ongoing mission to align ourselves and our clients with the most highly respected and influential figures in the worlds of culture and creativity. His essence encompasses what Project 2050 is all about
New York, NY (PRWEB) July 21, 2009
NYC based ideas and solutions shop Project 2050 announced Bobbito Garcia, world-renowned curator of underground culture, as Chief Creative. The announcement was made today by Phil Colón, founder of Project 2050, to key industry leaders.
Since inception, Project 2050 has played an influential role in both shaping and creating awareness for today's dynamic consumer marketplace. By bringing in individuals that help define and drive cultural movements, Project 2050 continues to be an industry catalyst for creativity. This began when Project 2050 brought on Shepard Fairey in October 2005 (http://www.tinyurl.com/twenty50)] as founding Creative Director. Today, the addition of Bobbito Garcia builds upon Project 2050's reputation for identifying and propelling these movements on the grassroots level before they become part of popular culture. Bob will work side by side with current Creative Director Raul RIvera across all existing and future clients. "Bobbito was a natural fit for us in our ongoing mission to align ourselves and our clients with the most highly respected and influential figures in the worlds of culture and creativity. His essence encompasses what Project 2050 is all about," states Matt Pressman, Project 2050's President.
"I'm elated to join the Project 2050 family," states Garcia. "The shop has always been focused on being genuine and I've always held a high regard for their creative process. Their work ethic and forward thinking attracted me to the opportunity the most. For those who know me well, I have always been passionate about exposing cultural movements that begin on the street level and eventually influence the globe. I look forward to working with my friends at W+K, TBWA, Nike, EA SPORTS, Gatorade, and many more in my new capacity. We will continue to work with agencies, brands and people we admire and trust."
A native New Yorker, Bobbito Garcia a.k.a. Kool Bob Love is Bounce Magazine's Co-Founder, the critically acclaimed author of Where'd You Get Those? NYC's Sneaker Culture: 1960-1987 (Testify Books), and a world-traveled DJ. In 2007, the former host of ESPN's "It's the Shoes" series designed seven signature Nike Air Force One 25th Anniversary shoes. Bobbito has voiced EA SPORTS NBA Street vol. 2 & 3, as well as, NBA 2K game titles. Bobbito has also appeared in over 40 commercials (Nike, EA SPORTS), numerous branded projects (Gatorade, Snickers) and 7 films including "Above the Rim" with Tupac Shakur. Currently, Bobbito is the Elite 24 High School Basketball All-American Game play-by-play commentator, and has a landmark afro-latin CD compilation release titled Connection (R2 Records). He will collaborate with PRO-Keds on the Royal Flash hi-top model for release in Fall 2009.
Following are a few quotes from industry leaders that are familiar with Bobbito's accomplishments:
"Bobbito is an absolute Master at his game as an authority in Street Basketball, Sneaker Culture & Underground Music. Bob has played a key role for us over the years in Basketball as well as Sneaker Culture from the Nike NYC basketball campaign to the Air Force One 25th Anniversary. His multifaceted perspective, coupled with the vision of Project 2050 makes a fantastic combination. Great addition!" exclaims Trevor Edwards, VP Global Brand & Category Management, Nike Inc
"Bobbito Garcia is a true Renaissance-Man who enjoys sharing his diverse interests with the world. Starting in 1993 with the Nike NYC campaign, we have had the great opportunity to work with Bobbito on many occasions here at Wieden + Kennedy. With his joining Project 2050, they now have one of the most informed and inspiring cultural talents in the country," comments John Jay, Executive Creative Director & Partner, Wieden + Kennedy
"Wow! I can't imagine a better first step! Bobbito has played an important part in providing unsurpassed credibility to our NBA STREET franchise. I have nothing but the utmost respect for Bob and what he represents not only as a global street culture authority, but also as a human being. Project 2050 have been great partners for EA SPORTS on our FIFA titles for over 5 years now. We look forward to continuing to produce great work with Bobbito and Project 2050 in the future, " states Glenn Chin, VP Global Brand Management, EA SPORTS
"Project 2050 beat me to it. If I had known that Bobbito was interested in the ad biz I would have hired him myself! Since 1994, Bobbito has been a significant contributor to my creative process on many of my projects, including Nike sneakers, EA NBA Street video games, the mini film Instant Def for Snickers and the animated series Blokhedz for Gatorade. Kool Bob Love is simply a creative and cultural genius, but most importantly, a friend," states Jimmy Smith, Group Creative Director, TBWA
"This is a very powerful alliance. Project 2050 is already a highly innovative and forward thinking shop that executes flawlessly. They did fantastic work for us in building the Boost Mobile brand on Elite 24 Hoops Classic, as well as Boost Mobile/Rock Corp. By adding Bobbito they now get a transformational figure that has significantly impacted popular culture in dance, music, radio, sports, fashion, and art domestically and internationally. He has a unique ability to identify what will capture and hold the attention of millions. Bobbito can do this so well because he has incredible creative range. Additionally, he is as respected amongst the elite of popular culture as he is in the mainstream. That is truly a rare quality. I'm excited to see what this partnership will mean for the worlds of Marketing, Entertainment, Sports & Media. Congratulations!" comments Darryl Cobbin, former CMO, Boost Mobile; President of Brand Positioning Doctors
ABOUT PROJECT 2050:
Project 2050 is a Creative Ideas and Solutions shop that builds healthy relationships between brands and consumers through marketing, product innovation and fearless creativity all rooted in cultural truth and authenticity. Project 2050 breaks boundaries and puts contemporary culture and consumer lifestyle into context for clients to absorb and leverage. For more information please visit: http://www.p2050.com.
###