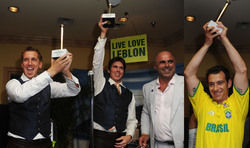 The array and quality of the cocktails showcased the talents in the room and the versatility of Cachaça and the Caipirinha
New Orleans, LA (PRWEB) July 21, 2009
The Caipirinha Competition, co-hosted by the United States Bartenders Guild and Leblon Cachaça, took place in front of a live sold-out audience of 450 guests at Pat O'Brien's on the River. The competition hosted 18 bartenders from 9 cities and each competitor muddled and shook their cocktails in front of two distinct sets of judges until two winners were awarded the grand prize Golden Muddler trophy.
The first set of judges were comprised among some of the most respected mixologists and journalists in the spirits industry including: Tony Abou-Ganim, the Modern Mixologist and Master of Ceremonies for the evening; Junior Merino, the Liquid Chef; Naren Young of bobo in New York City; Francine Cohen, Editor-in-Chief of Food & Beverage Magazine; and special guest judge H. Joseph Ehrmann of Elixir in San Francisco.
"The array and quality of the cocktails showcased the talents in the room and the versatility of Cachaça and the Caipirinha" said Tony Abou-Ganim.
The Las Vegas duo of Tobin Ellis of Bar Magic and Andrew Pollard of Luxor's Noir Bar, took home top honors in the judge's choice competition. The total combined scores from Tobin's Sao Paulo Flip and Andrew's El Calor del Brasil were the highest rated among the judging criteria including; Appearance, Aroma, Taste, and Creativity. Here are the winning recipes:
Saõ Paulo Flip- Tobin Ellis
1 ½ oz Leblon Cachaça
½ oz St. Germain
½ tsp Apricot & fig marmalade
2 dashes Peychaud Bitters
Garnish- Lemon Espuma Foam**
Glassware: Martini Coupe
**To make Lemon Espuma
In desert whip combine:
4 oz Fresh squeezed lemon
4 oz cane syrup
4 oz egg white
Charge with Nitrous Oxide Canister
Combine ingredients in a shaker, add ice and shake well. Strain in a coupe and top with Lemon Espuma Foam and bitters.
El Calor del Brasil- Andrew Pollard
2 oz Leblon Cachaça
4 medium basil leaves
1 oz fresh squeezed lime juice
½ oz tangerine Puree (Boiron)
1 pineapple chunk
½ oz homemade spice syrup
Garnish - pineapple spear, basil sprig, and fresh cracked black pepper.
Glassware: Highball
Muddle the pineapple, basil leaf, lime juice, homemade syrup and tangerine puree. Add Leblon Cachaça, ice and double strain over fresh ice. Garnish with a pineapple spear, basil sprig and fresh cracked black pepper.
The second set of judges was comprised of the live audience in attendance all of who had the opportunity to try each of the competitors cocktails. Guests were asked to choose their single favorite cocktail of the evening.
Tad Carducci, of the Tippling Brothers, from the New York USBG Chapter and defending 2008 USBG Competition Champion took home the People's Choice Award by winning the most votes from the audience with his Masalarinha cocktail.
Masalarinha - Tad Carducci
2 oz Leblon Cachaca
½ oz honey
¾ oz fresh lime
1 fresh pineapple cube
1 yellow grapfruit peel - 2 inches
¼ tsp Garam Masala powder
¼ tsp Tumeric
Glassware: Highball
Muddle the lime, pineapple and honey. Add additional ingredients and ice. Shake and serve over ice into a highball glass. Garnish with a slice of pineapple.
Other Participants Included:
Austin, TX
Mindy Kucan
Bill Norris
Chicago, IL
Christiana DeLucca
Tim Lacey
Milwaukee
Nate Newbrough
Mathias Simonis
Las Vegas
Tobin Ellis
Andrew Pollard
New Orleans
Danny Valdez
Maksym Pazuniak
New York
Tad Carducci
Christopher Stanley
Phoenix
Trudy Thomas
Cory Jansen
San Fransisco
Victoria D'Amato
Chase Williamson
Southern California
Pablo Moix
Matthew Eggleston
For a list of all competitors Caipirinha recipes please visit The Daily Muddle
About Leblon Cachaça
Leblon is an ultra-premium cachaça (pronounced ka-SHAH-sa) produced at the Maison Leblon in Minas Gerais, Brazil. The rum-like spirit, the most award-winning cachaça on the market, is made from fresh pressed Brazilian sugar cane that is then rested in cognac casks and blended to create superior complexity and taste. Cachaça is the main ingredient in the Caipirinha (pronounced kai-pur-EEN-ya), the national cocktail of Brazil. Leblon is the leading luxury Cachaça in high-end establishments and a Four-Time Gold Medal Award Winner at the San Francisco World Spirits Competition and Best in Class at the Rum Experience International Tasting Competition - London. Leblon is available in all 50 U.S. states and cultural capitals around the world such as Sao Paulo, London, Paris, and Bangkok. For more information, visit Leblon Cachaca.
About Tales of the Cocktail
Tales of the Cocktail is an internationally acclaimed festival of cocktails, cuisine and culture held annually in New Orleans, Louisiana. The event brings together the best and brightest of the cocktail community--award-winning mixologists, authors, bartenders, chefs and designers--for a five-day celebration of the history and artistry of making drinks. Each year offers a spirited series of dinners, demos, tastings, competitions, seminars, book signings, tours and parties all perfectly paired with some of the best cocktails ever made.
About the New Orleans Culinary and Cultural Preservation Society
The New Orleans Culinary and Cultural Preservation Society is a non-profit organization committed to preserving the unique culture of dining and drinking in New Orleans and the storied bars and restaurants that have contributed to the city's world-wide culinary acclaim. This organization supports members of the hospitality industry through education and the production of events like Tales of the Cocktail and, most recently, Trails of the Cocktail, a scholarship program for emerging talent in the New Orleans cocktail industry.
For more information on Tales of the Cocktail, visit http://www.TalesoftheCocktail.com.
###