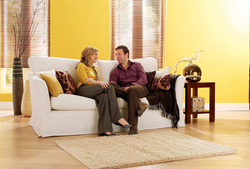 Just because a sofa is looking a little frayed around the edges doesn't mean there's anything actually wrong with it
UK (PRWEB) July 27, 2009
As if traipsing around sofa shops isn't enough of a pain in the proverbial, Great British homeowners could be exposing their derri¥s to the risk of 'New Sofa Syndrome' when they ditch their faithful old sofa for a cheap and cheerful replacement.
TV ads for bargain sofas on easy payment terms have encouraged homeowners to relinquish their old three-piece suite for a brand spanking new one. But giving the living room a new look could bring with it a host of new problems too, since sitting on a different seat which may not be as firm or supportive as the old one can cause all kinds of aches and pains.
In a recent survey conducted by Plumbs, 35% of women over 50 said their lounge furniture cost less then £1000.
It's a condition that reupholstery and loose cover specialist, Plumbs, refers to as 'New Sofa Syndrome'. Sarah Plumb Managing Director for Plumbs explains: "Not so long ago a sofa was a really big investment and people bought a high quality piece of furniture that they knew would last. These days, people often change their sofa when they change their decor and, while the new furniture may look great, when a persons been sitting in the same position on the same settee for years their body's response to the change might not be quite so positive as their friends' and neighbours'!"
The good news is that people can now save themselves the discomfort of 'New Sofa Syndrome', not to mention endless hours of driving from one sofa shop to another, by having their old, high quality sofa reupholstered or covered by specialists.
"Just because a sofa is looking a little frayed around the edges doesn't mean there's anything actually wrong with it," Sarah continues, "it just needs a little love.
"There's nothing like getting back from work and collapsing into the same comfy seat that's welcomed you home for the past 20 years," Sarah adds. "And by reupholstering or using sofa covers instead of buying new all you have to worry about is fending off the rest of the family for the best seat in the house."
About Plumbs
Plumbs have around 150 Home Consultants who will visit your home free of charge. The Home Consultants can recommend an appropriate loose sofa covers solution and advise on room colour co-ordination and any other home furnishings such as upholstery, furniture covers, cushion covers and curtains. With over 350 different upholstery fabric designs and colours to choose from, and a range of materials to suite any piece of furniture.
Media Contacts for Plumbs
For more information, images or interviews please contact Simon Blackburn at Plumbs on 01772 838300. Alternatively, email sblackburn(at)plumbs(dot)ltd(dot)uk.
# # #