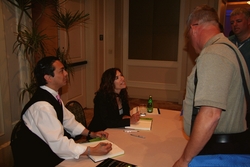 PR 2.0: New Media, New Tools, New Audiences
Totowa, NJ (PRWEB) July 21, 2009
Deirdre Breakenridge, president and executive director of communications at PFS Marketwyse, a full-service advertising, marketing and communications agency located in northern NJ and Brian Solis, principal of FutureWorks, an award-winning PR and New Media agency in Silicon Valley, will discuss their new book, "Putting the Public Back in Public Relations," at the Vocus Virtual Conference: How to Effectively Leverage Social Media, to be held on July 23, 2009 from 10:00 a.m. to 6:30 p.m. (EST).
"This is a wonderful and affordable opportunity, especially for those who were not able to attend the Vocus User Conference," said Breakenridge. "Attendees will be able to ask questions and speak directly with the presenting social media experts, discuss new trends and influencers in the social media space, and walk away with a wealth of information on how to apply what they've learned to improve their social media strategies. Brian and I are very excited to be a part of it."
The virtual conference will consist of recorded footage from the June 4th, Vocus Users Conference followed by a live chat session with the presenters. In addition, the agenda includes six other sessions on topics ranging from Twitter best-practices and Blogger relations to an integrated approach to PR and emerging media.
The cost for attending the Vocus Virtual Conference is $129. For additional information on the agenda, featured speakers and registration visit http://www.vocus.com/vc2009/.
About Vocus, Inc.
Vocus, Inc. (NASDAQ: VOCS) is a leading provider of on-demand software for public relations management. Our web-based software suite helps organizations of all sizes to fundamentally change the way they communicate with both the media and the public, optimizing their public relations and increasing their ability to measure its impact. Our on-demand software addresses the critical functions of public relations including media relations, news distribution and news monitoring. We deliver our solutions over the Internet using a secure, scalable application and system architecture, which allows our customers to eliminate expensive up-front hardware and software costs and to quickly deploy and adopt our on-demand software. Vocus is used by more than 3,500 organizations worldwide and is available in seven languages. Vocus is based in Lanham, MD with offices in North America, Europe, and Asia. For more information please visit http://www.vocus.com or call 800.345.5572.
About Deirdre Breakenridge
Deirdre Breakenridge is President of PFS Marketwyse, a marketing communications agency in Totowa, NJ. Breakenridge blogs at PR 2.0 Strategies and is also a frequent contributor to PR industry publications. "Putting the Public Back in Public Relations" is the fourth book that Breakenridge has authored. Her previous works, "PR 2.0: New Media, New Tools, New Audiences ," also published by FT Press, was released in 2008. Breakenridge's earlier books, "The New PR Toolkit" and "Cyberbranding: Brand Building in the Digital Economy," were published by Prentice Hall, in February 2003 and May of 2001, respectively.
About Brian Solis
Brian Solis is Principal of FutureWorks, an award-winning PR and New Media agency in Silicon Valley. One of the original thought leaders who paved the way for Social Media and PR2.0, Solis co-founded the Social Media Club and is a founding member of the Media 2.0 Workgroup. Solis is an avid speaker on the topic of new marketing and engagement and regularly contributes PR and technology insight to top industry publications. Solis' other works include Now is Gone and he currently blogs about the evolution and future of PR and Marketing at PR 2.0, which is considered one of the most influential marketing blogs in the world.
###