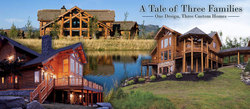 This is the kind of thing our clients want to see, says Mountain Architects' lead designer, Matt Franklin.
Meridian, ID (Vocus) July 22, 2009
Last month, PrecisionCraft kicked off its new Inspired Living campaign sharing real life stories of how Mountain Architects' new design creations come to life. This month, the award winning team takes its followers on a journey surrounding three beautiful homes inspired by one Mountain Architects floor plan, the Woodhaven.
July's Inspired Living design story begins with an Idaho couple, Sandy and Dennis. For years, this couple dreamed of building a log home. But, it wasn't until they found PrecisionCraft's Woodhaven floor plan that they knew it was time to make that dream a reality. And, with children, grandchildren & a large extended family living within driving distance, they knew their home's design had to fit their specific, family-centered needs.
Then there is Carol's story. Inspired by the same Woodhaven floor plan, Carol worked with Mountain Architects, PrecisionCraft's design firm, to design a home that combined the rustic look and feel of a traditional log home but with a modern twist. From a restaurant style kitchen with movable pieces, easy-to-clean cement floors, and a lower level designed to host parties and entertain guests, every room in her home has an underlying purpose.
Lastly, there is Dave and Penny. This couple wanted a home that would stand out; an authentic, handcrafted log home. Dave and Penny worked with their designer to customize the Woodhaven, room by room, paying close attention to how the logs came together and where stone accents were incorporated.
With the right floor plan and PrecisionCraft's skilled team of architects, engineers, log & timber manufacturers and builders, each couple started at the same place but ended up with a one-of-a-kind log home, specifically designed to match their own architectural style and budget.
"This is the kind of thing our clients want to see, says Mountain Architects' lead designer, Matt Franklin. "Real life examples of how their designer can modify a floor plan to match their needs, from simply altering its layout and size to integrating a completely unique combination of log and timber."
Readers can get the full Inspired Living log home story at PrecisionCraft.com. In addition to the story behind each home, log home visionaries can use PrecisionCraft's photo tool to compare each floor plan and view images of each finished version. One extraordinary floor plan, three unique home building journeys.
###