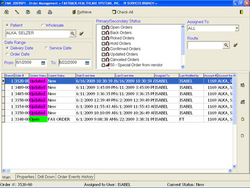 By integrating technology, information and human resources Fastrack helps providers manage and automate every step of their key business processes allowing them to do more with less staff
Plainview, NY (PRWEB) July 22, 2009
To assist providers in retaining profitability and gaining a competitive advantage Fastrack has introduced new functionality to its' Enterprise System that will streamline operational processes to maximize efficiency. The Fastrack Automated Workflow Manager™ contains powerful features designed to help manage critical business processes that will improve productivity and reduce operating costs.
According to Spencer Kay, President/CEO of Fastrack Healthcare Systems, "A provider should never allow another order to fall through the cracks. What could be worse than losing a client simply because the paperwork was misplaced and the order never shipped? One time too many and now maybe you have lost a valuable referral source. The Fastrack Automated Workflow Manager tracks every step of the process from patient intake and the receipt of a new order whether by fax, phone or Internet, to picking the products in the warehouse and routing the delivery trucks. Providers wills always know what stage each order is in, if there is any reason it is being held up (i.e. missing CMN/RX, etc.), and who is responsible for the next step in getting it out the door. Plus the Fastrack Task Manager alerts key staff to significant events that require action including processing new orders."
With Fastrack the provider knows the time of the delivery, automatically has a signed copy of a delivery ticket in the patient file and has confirmed the delivery before the driver has returned to the warehouse.
Fastrack enables providers to build in their own processes without requiring IT resources. Users are assigned to workflow tasks with the ability to update the status of their tasks so anyone in the organization knows what has to be done next.
"By integrating technology, information and human resources Fastrack helps providers manage and automate every step of their key business processes allowing them to do more with less staff," added Kay.
The Fastrack Automated Workflow Manager is a free enhancement made available in the company's newest version which was released today.
Fastrack Workflow Automation Benefits:
Automates business processes - Built in processes ensure best practices are followed with fewer bottlenecks, less paper work, less manual hand-offs, less duplication and fewer errors.
Real-time management of critical exceptions - With real-time status of their processes, managers can catch potential problems earlier and automate how they are handled as well as gain greater visibility of how the operation is performing.
Better Team Work - Helps staff work together seamlessly with full knowledge of their role in the work flow process. Users can see all workflow related items assigned to them and managers can view all items assigned to their staff. Managers can easily see the status of tracked items and even see the elapse time between the initial event and the current status of the order. Encourages the involvement of the entire organization in improving processes.
Better patient and business relationships - Avoid making errors that can cost the provider patients and business relationships.
Lower operational costs - Reduce inefficiencies in the operation allowing for better use of their people and systems.
Eliminates Errors and Miscommunications - Ensures process consistency, eliminating errors and productivity problems due to items that tend to fall through the cracks.
Speeds Internal Routing Processes - Alerts key personnel to missing documents, new patients and orders, orders not being processed in a timely fashion and more. Reduces paper handling.
Task Manager - Due date management with escalation plus prioritized task lists for each user with automatic reminders.
Fastrack Healthcare Systems, Inc. is the leading provider of integrated homecare solutions for Home Medical Equipment providers, Infusion Pharmacy and Home Healthcare Agencies. The Fastrack HME Billing Software and DME Billing Software were the first Windows/SQL based systems. The addition of their IV Billing Software and Home Care Billing Software provides the industry's only integrated Home Care System addressing all three businesses in one application.
For further information contact Fastrack Healthcare Systems, Inc. at 800-520-2325; email: info (at) fastrk.com or visit their web site: http://www.onlyfastrack.com.
###