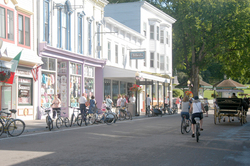 Mackinac Island, MI (PRWEB) July 22, 2009
Winston-Salem, NC (PRWEB) July 22, 2009 -- Flying Compass, a travel Web site, spotlights Michigan's Mackinac Island as an unexpected visitor experience. In a state that has long been dominated by automobile manufacturing and related industries, and at a place frequented by those industries' employees, the island's no cars regulation is rather unusual.
Here travelers walk off the ferry and immediately take a step back in time. First implemented in 1898, the local ordinance prohibits cars on the island, allowing visitors to slow down and enjoy their surroundings. Travel around the island is limited to bicycles, horse dawn carriages, horseback and two feet.
Attractions on the island include Fort Mackinac, the Grand Hotel, Mackinac Island State Park with historic homes and businesses and natural rock formations, golf and more than a dozen fudge shops.
Flying Compass highlights Mackinac Island, as well as neighboring Mackinaw City situated across the straits on the mainland, in videos and stories.
For more information on Mackinac Island, visit: Flying Compass
Flying Compass is a travel-based Web site showcasing the United States. Read stories on destinations, discover things to see and do, watch videos and slide shows and access podcasts/audio tours. A community section welcomes member comments and experiences. For more information, go to: flyingcompass.com.
# # #