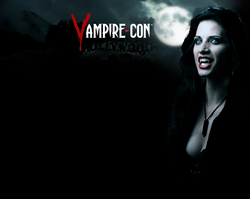 Inked in Blood: 40 Years of Vampirella.
Hollywood, CA (PRWEB) July 22, 2009
Vampire-Con 2009 is teaming up with Harris Publications for the 40th anniversary of Vampirella, the legendary comic book heroine from Planet Drakulon. In celebration of the occasion, Vampire-Con is offering a chance to be crowned Vampirella for the weekend. Contestants are invited to submit their pictures in costume to http://vampire-con.com/contest_rules.html. The winner will be unveiled at The Music Box @ Fonda in Hollywood on Sunday, August 16, and she will be the guest of honor at Vampirella's Ball that evening, a hot 18 & over danse macabre with vampirerotic go-go girls & boys to the grooves of DJ Gary Calamar, Grammy-nominated producer, music supervisor of HBO's True Blood and host of KCRW's Sunday night slot from 9pm - midnight. "This contest offers great exposure to aspiring models and is a chance to bring the sexiest heroine in comic book history to life," says Wendi Mirabella, executive director of Vampire-Con.
Says Harris Publications Editorial Director Bon Alimagno, "Legendary women such as Barbara Leigh and Julie Strain as well as fan favorites Maria DiAngelis and Kitana Baker have worn the Vampirella costume and represented her with pride. This contest is the very special chance for one lucky woman to follow in their footsteps and be the face of Vampirella at this unique event."
Vampire-Con debuts the weekend-long event in Hollywood, CA with a two-day Vampire Film Festival on Friday, August 14th and Saturday, August 15th at the New Beverly Cinema and then moves to The Music Box Theatre @ Fonda on Sunday, August 16th for a day of vendors, contests and panel discussions, including "Inked in Blood: 40 Years of Vampirella." The first-of-its-kind convention has been covered in Newsweek, on MSN.com, and Fangoria.
Vampirella is the daughter of the demon Lilith - the comic book series follows Vampirella's journey into the mystery of her own past and why she must rid our world of evil. Vampirella debuted in 1969 in a black & white magazine titled simply VAMPIRELLA. With a stunning new cover by the legendary Frank Frazetta, Vampirella #1 quickly made publishing history. Vampirella appeared in this magazine format throughout the 1970s. Many of these classic stories were illustrated by the legendary artist Jose Gonzalez and have remained quite popular to the present day. After a brief publishing hiatus, Vampirella returned in 1992 in a blockbuster new color comic book format. She quickly regained her status as the reigning queen of comic book heroines and remains so to this day.
Tickets are $15 for the Sunday day-walkers and $30 for Vampirella's Ball. Film Festival Admission is $7 per night. Stay tuned for updates about celebrity guests, prizes, contests and more. For more information: visit http://www.vampire-con.com To learn more about Vampirella, visit http://www.vampirella.com. Vampirella: The Second Coming, will be released September 10, 2009.
# # #