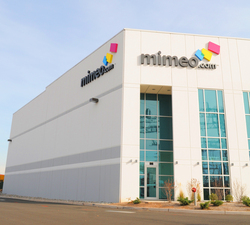 In the same way that Mimeo Marketplace changed the way businesses publish and distribute documents, the customization feature will open up new strategies for how documents are used
New York, NY (PRWEB) July 22, 2009
Mimeo.com, the innovator of online, on-demand digital printing for marketing collateral and business documents, announced today the launch of Mimeo Marketplace with Customization, a new variable data printing (VDP) feature that allows document owners to control overall messaging and look-and-feel, while empowering document buyers to tailor documents to meet their needs.
With Mimeo Marketplace, businesses can publish documents to a branded online document storefront and then let others across multiple locations do the ordering. With the new customization feature, publishers can predefine areas where those ordering can add content such as text, pictures, and graphics.
"In the same way that Mimeo Marketplace changed the way businesses publish and distribute documents, the customization feature will open up new strategies for how documents are used", said Adam Slutsky, Chief Executive officer of Mimeo.com, "Printing generic brochures or sales presentations far in advance, warehousing them, and then hiring a staff to help with their distribution to multiple locations doesn't make any sense. It is significantly more cost effective to empower managers and sales people in the field to order customized printed materials at the moment they are needed."
Mimeo Marketplace with Customization is designed for marketers, sales organizations and others that have brand or compliance standards, but want to provide some level of co-branding or other customization for the person ordering. Through the use of templates, companies can quickly strike a balance between pre-defined content and those areas that can be customized.
"Mimeo Marketplace with Customization is another example of how Mimeo is responding to the needs of our customers for innovative online printing technology" said Holly Muscolino, VP, Product Marketing at Mimeo.com. "Putting customization in the hands of the end user will greatly improve the impact and return on investment of the documents being printed."
To learn more about Mimeo Marketplace with Customization or to schedule a demo please call 1.800.Go.Mimeo (1.800.466.4636).
About Mimeo.com
Mimeo.com is the innovator of online printing for business documents and marketing materials. It is both the fastest growing company in the digital printing services market and among the fastest growing private companies in the country.
Founded in 1998, Mimeo.com has revolutionized the traditional print industry, enabling busy professionals to print online and enjoy total control over the preparation and delivery of their documents, right from their computers. Every order is printed on-demand, bound and delivered from Mimeo's two centralized, highly automated production facilities, ensuring consistency, superior quality and quick turnaround for every order.
Mimeo allows companies to operate in real-time by meeting their printing needs with speed and efficiency, guaranteeing overnight delivery in North America and 2 day delivery to Europe on any order placed by 10:00 p.m. EST. The online document printing company has received numerous accolades for technology, innovation, and rapid growth including such honors as the Red Herring 100, Inc.500, AlwaysOn100, Deloitte Fast 50 and Deloitte Fast 500 awards.
###