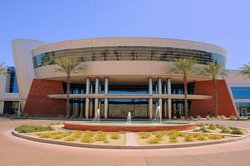 Our customers rely on us to provide them with reliable power and connectivity to run their mission critical IT systems. We need to be able to resolve any incidents quickly so we can maintain an 'always on' operation
Islandia, NY (PRWEB) July 20, 2009 -
CA, Inc. (NASDAQ: CA) today announced that i/o Data Centers, a leading provider of colocation and data center solutions, has selected CA Service Desk Manager to help drive greater data center efficiency and quality of service for its customers. Supporting Lean IT innovation, CA Service Desk Manager helps optimize the support of core business services while improving staff efficiency by automating incident, problem, and change management processes.
"Our customers rely on us to provide them with reliable power and connectivity to run their mission critical IT systems. We need to be able to resolve any incidents quickly so we can maintain an 'always on' operation," said Matt Calhoun, CTO, i/o Data Centers. "We expect CA Service Desk Manager's comprehensive capabilities for managing ITIL (IT Infrastructure Library) processes will help us ensure we can provide our customers with the 24/forever support they expect."
"i/o Data Centers provides colocation and data center solutions for several of the world's largest corporations and web properties," said Brian Bell, senior vice president and general manager, CA Service Management business unit. "As i/o Data Centers continues to grow, CA Service Desk Manager will enable them to provide even greater value to their customers by operating more efficiently. i/o Data Centers' selection of CA Service Desk Manager is a terrific validation of our continuing leadership in this market and ability to enable Lean IT service management."
About i/o Data Centers
i/o Data Centers is the premier provider of enterprise colocation and data center solutions. Based in Arizona, i/o Data Centers designs, builds and operates highly reliable and efficient data centers for some of the world's largest corporations and web properties. i/o Data Centers offers a variety of innovative and flexible colocation solutions including colocation cabinets, colocation cages, data center suites and containerized data center solutions. For more information on i/o Data Centers visit: http://www.iodatacenters.com
About CA
CA (NASDAQ: CA), the world's leading independent IT management software company, helps customers optimize IT for better business results. CA's Enterprise IT Management solutions for mainframe and distributed computing enable Lean IT--empowering organizations to more effectively govern, manage and secure their IT operations. For more information, visit http://www.ca.com.
Trademarks
Copyright © 2009 CA. All Rights Reserved. One CA Plaza, Islandia, N.Y. 11749. All trademarks, trade names, service marks, and logos referenced herein belong to their respective companies. ITIL ® is a Registered Trade Mark, and a Registered Community Trade Mark of the Office of Government Commerce, and is registered in the U.S. Patent and Trademark Office.
###