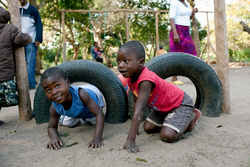 The playgrounds are an important part of our early childhood development program in Mozambique. They provide children with the chance to develop skills through outside play
Westport, Conn. (Vocus) July 21, 2009
For the first time, thousands of Mozambican preschoolers will soon experience the thrill of climbing a jungle gym, riding a seesaw and swinging in a tire thanks to Idol Gives Back viewers. The global humanitarian organization Save the Children today announced the opening of Idol Gives Back playgrounds in rural communities of Mozambique.
The playgrounds are being built adjacent to Idol Gives Back preschools that opened in 2008. Twenty-five playgrounds were built as of June, and the remaining six are expected to be completed by the end of July. Both the playgrounds and preschools are funded through a grant from America Gives Back (formerly known as the Charity Projects Entertainment Fund or CPEF) from donations raised through the 2007 Idol Gives Back television special.
"The playgrounds are an important part of our early childhood development program in Mozambique. They provide children with the chance to develop skills through outside play," said John Grabowski, Save the Children's country director for Mozambique.
"You can hear the squeals of excitement coming from the playgrounds. Imagine, these children have never seen a playground before," added Grabowski. "Now, they have a fun place to play with their friends."
Environmentally-sustainable Playground Design
The playgrounds were designed by three Mozambique artists who recently graduated from the Maputo-based National School of Visual Arts. Each playground has a seesaw, three swings, an obstacle course and a jungle gym. Environmentally-sustainable and locally available materials including bamboo and wooden posts, fallen coconut tree trunks, natural and synthetic rope and used car tires most of which were donated by local auto mechanics are used in the construction of the playgrounds.
"We made sure that the playground structures were sound so that they could easily last five years without maintenance," said Rafael Mouzinho, one of the playground designers. "When a piece of equipment needs to be repaired, the community can use the locally available bamboo or eucalyptus trees to ensure that the playgrounds are sustainable.
Idol Gives Back donations have allowed Save the Children to provide the materials for the playgrounds. Community members volunteer their time to build them.
An Early Start on School Success in Rural Mozambique
More than 1,000 children graduated from Idol Gives Back preschools in 42 rural communities in November 2008. Mozambique's littlest graduates are now in first grade, and enrollment in this year's preschool class is 3,065 young children.
According to Save the Children's State of the World's Mothers 2009 report released this past May, early learning opportunities help put children on the path to success in school and in life. There were no formalized early childhood development programs in rural Mozambique prior to the launch of the Idol Gives Back-funded preschool program. The report found that Mozambique ranked 83 out of 100 developing countries in preparing its young children for school success.
Giving children an early start on school is especially important in Mozambique, where only four out of 10 children reach fifth grade, according to UNICEF.
Save the Children received $13.5 million in donations from Idol Gives Back in 2007, and an additional $1 million from Allstate Insurance Company. Donations to Africa are supporting child health and education programs in six countries: Ethiopia, Guinea, Mali, Mozambique, South Sudan and Uganda.
Watch a video about Idol Gives Back and Save the Children in Mozambique.
Save the Children is the leading independent organization that creates lasting change for children in need in the United States and around the world. Save the Children USA is a member of the International Save the Children Alliance, a global network of 27 independent Save the Children organizations working to ensure the well-being and protection of children in more than 120 countries. Follow us on Twitter and Facebook.
###