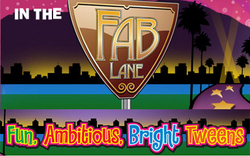 These days, it is more and more stressful to be a tween
Chicago, IL (Vocus) July 22, 2009
InTheFABLane.com, a tween website for "Fun, Ambitious, Bright" tweens, goes beyond fun, safe, internet activities for tween girls, it tackles the real issues tweens face on a daily basis. At an age where tween life has become more and more stressful and overscheduled, tweens are now facing issues that this age group hasn't always faced. InTheFABLane.com rotates its content to be sure to address different tween issues weekly in its FABFun section.
Taking the reins of subjects such as friends, cliques, dating and more is the tween website's teen therapist Sandra Dupont, MA, MS, MFT on the site's Advice Column. Her expertise in teen counseling, adolescent psychology and mental development gives ITFL users practical advice to handle situations that they will start to experience in tween life. InTheFABLane.com answers advice questions submitted by users, only. Some topics that have been asked, and answered, range from gaining respect among your peers, dealing with family death and tragedy- to choosing a bra for the first time.
Another important aspect of InTheFABLane.com is the Health & Body section. With so many topics to address ranging from body image to nutrition to seasonal allergies, multiple professionals from different fields of medicine are used by InTheFABLane.com administrators to be sure that users are getting proper guidance from the correct sources. Some health topics discussed may be uncomfortable for a tween girl, such as what she can expect from her first menstrual cycle, but these topics are broached in an easy to understand question and answer format by a qualified doctor.
InTheFABLane administrators believe that a tween girl's parents should be the most involved in helping her deal with the topics that broached in the Advice and Health sections of InTheFABLane.com. To support this, the website sends a newsletter to the parents of all users, informing them of the content on the site and the issues being raised. Users can cancel their child's membership at any time and are given the direct contact information of ITFL administrators should they have any questions or comments. "These days, it is more and more stressful to be a tween" says Kimberly Giannini, Content Director of InTheFABLane.com. "Although games and entertainment are important in the development of this age group, the more critical topics, such as health, body and lifestyle issues, must be addressed as well to truly fulfill a tweens online experience and be a learning tool as well as a fun tween website."
# # #