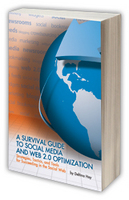 My goal was to create a readable text that would help entrepreneurs and companies gain access to the millions of potential clients in the Social Web
Austin (Vocus) July 22, 2009 —
Deltina Hay, an expert in open source programming and founder of SocialMediaPower.com, has produced a first-in-class technical handbook to mastering the application and integration of Web 2.0 tools. Written for entrepreneurs, small to medium size business owners, SEO firms, PR/marketing companies and students, this social media textbook provides valuable instruction for the novice user to the advanced developer.
"My goal was to create a readable text that would help entrepreneurs and companies gain access to the millions of potential clients in the Social Web" states Deltina Hay, author of A Survival Guide to Social Media and Web 2.0 Optimization. " My book does not just teach theory or how to blog, it empowers you with a sustainable, optimized Social Web presence for interacting with your target audiences."
Readers will enjoy over 400 pages of training, easy-to-follow screen shots and a companion CD to learn the fundamentals of Web 2.0—from creating an impressive Facebook page to developing an optimization strategy for RSS feeds and employing widgets, building a WordPress site and podcasting/vidcasting/webcasting.
Table of Contents includes:
Creating a Social Media Strategy
RSS Feeds & Blogs
Building a WordPress site
Podcasting/Vidcasting/Webcasting
Social Networking & Micro-Blogging
Social Bookmarking & Crowd Sourcing
Media Communities
Widgets & Badges
` Social Media Newsrooms
Measuring Success
"Deltina Hay's 'Survival Guide' can help anyone – from the newbie Twitterer to the seasoned code monkey – maneuver the Social Web like a Jedi Master. Read this book and join the revolution!" comments JD Lasica, Founder, Socialmedia.biz
This comprehensive how-to guide provides the substance to enable you to move ahead with your online goals.
Stay ahead of the social media curve and purchase your discounted copy at Social Media Power ,or buy anywhere books are sold.
Check out the Survival Guide Newsroom at WebGuide
A SURVIVAL GUIDE TO SOCIAL MEDIA AND WEB 2.0 OPTIMIZATION
ISBN: 978-0-9817443-8-4
Price: $24.95
Published by: Wiggy Press
Distributed Internationally by: Midpoint Trade Books
ABOUT DELTINA HAY
Deltina Hay's graduate education includes applied mathematics, computer science, and psychology. She has written two substantial books on social media and Web 2.0, is a regular contributor of articles on the subject, and given countless presentations. She has the advantage over many social media consultants in that she is both a developer and a user of social media. As a publisher and small business owner, she knows firsthand how to apply the tools of social media to the industry, and as a developer, knows how to build them. While she has taught at the university level, her deep working knowledge of social media ideas as well as how to apply them in the real world make her writings and presentations some of the most exciting and accessible in the industry today.
Advance Praise for A Survival Guide to Social Media and Web 2.0 Optimization
"Social media offers incredible potential for growing a business or reputation online. But using social media can be an incredible time-suck if you don't know what you're doing. Deltina's book will help you make the best use of social media. Read it. Use it. Put it into practice." —John Kremer, author of 1001 Ways to Market Your Books
"I highly recommend this book as a resource for anyone advertising social media strategies as a part of their professional offerings or, for that matter, anyone considering hiring a social media strategist. This is a very important and much appreciated book." —Mike Chapman, Award-winning social media strategist, Social Media Club co-founder
###