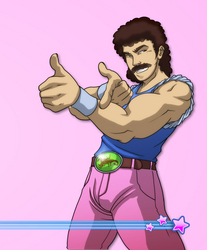 Fulfill your potential my man, we could start a pretty fresh side gig: Monopoly Guy appearances!
Brooklyn, NY (Vocus) July 21, 2009
In 1990, John Oates made a huge mistake. After years in the limelight and countless hit singles, he parted ways with one of the founding members of blue-eyed-soul duo Hall and Oates.
No, not Darryl Hall. His mustache, better known as J-Stache.
But now, he's back and finally getting the fame he deserves. The trailer for his new series debuts TODAY on FunnyorDie.com, so head over there, pay him some respect, and check out his blog at JStache.com.
Recently, J-Stache has been doing what he does best: pimping out Oates, who has been talking up the show to the guys over at Billboard, Bullz-Eye, Asylum, and Crave Online.
"Listen up kids, I've been at this since before you were in diapers," said J-Stache. "Me and my boy Oatesie are coming to blow your mind, and there's nothing you can do about it."
So anyway – check out the trailer over at FunnyorDie.com, read his blog at JStache.com, and follow him on Twitter.com/JStache. Don't worry, J-Stache doesn't get what Twitter is good for, either.
All hail the mustache, baby.
About J-Stache
The '70s and '80s were good to the mustachioed John Oates, but the rock 'n roll lifestyle began to take a toll and he knew that change was necessary. After that fateful night in 1990 when John Oates and J-Stache split ways, J-Stache wouldn't go quietly. He refused to slow down his hard-partying lifestyle and was determined to remain a part of Oates' life. Now, they're back together fighting crime and running Oates' Aspen, CO celebrity health spa, Phunk Shui, on the side.
John Oates stars as himself, with comedian Dave Attell as the voice of J-Stache, his boozing, womanizing, and slightly drug-addled moustache. Whether battling mustachioed evildoers like Geraldo Rivera or diving down another bottle of tequila, J-Stache is a man… err… moustache… of action.
J-Stache has a blog at JStache.com, where he shares his latest exploits (like the time he saw Oprah naked after doing whippits and listening to ELO with Stedman), shares career advice (to marketer Seth Godin: "Fulfill your potential my man, we could start a pretty fresh side gig: Monopoly Guy appearances!"), and discovers the best new music out there. You should follow him on Twitter at Twitter.com/JStache.
About Apex Exposure
Apex Exposure is a full service new media marketing agency specializing in the development of integrated marketing campaigns. The company provides clients with forward thinking new media marketing solutions by implementing a business philosophy centered around a strategic approach in working with clients to determine their message, identify their audience, and most importantly, understand their marketing objectives. Apex delivers unique and effective marketing campaigns that utilize all aspects of the internet while complimenting traditional marketing efforts, maximizing the number of impressions across relevant demographics and cutting through the clutter of today's oversaturated new media space. For more information including company capabilities and case studies log onto ApexExposure.com.
###