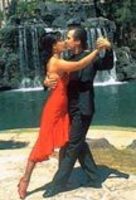 I realized that dancing was a really important social skill, so I decided to take private dance lessons.
Concord, CA (Vocus) July 22, 2009
Dance instructor Phil Seyer announced today that he is using new video technology in his Private dance lessons offered in Roseville, Sacramento, San Francisco, and Emeryville. Previously setting up a video camera and shooting video of dance steps and getting it to dance students was a tedious process. But now within minutes of a dance lesson Mr. Seyer is able to email high quality custom videos to his students. The camera is tiny (it slips into one's pocket), is always available and connects to computer directly with a USB connector. Special software makes it easy to email the videos to dance students.
Besides being a dance teacher, Seyer is a software engineer and instructional technologist. Because of his background in instructional and computer technology, Seyer is always searching for technological improvements to help his students learn better and faster. A frequently problem that many students have is that they can't remember much of what they have learned after taking a private lesson. Phil helps students with this by emailing them summarizes of what they have learned. He also makes a video of them (or himself demonstrating) during a lesson and then emails them a video clip using new video technology from Flip Video. "The videos you took during our dance lesson really helped us," said a recent couple preparing for their First Dance.
Besides offering private dance lesson with custom videos, Phil helps students learn to dance with "off the shelf" instructional dance lesson videos, especially salsa dance lesson videos, Nightclub Two step, and Argentine tango videos. You an learn more at Argentine-tango.com.
"I love dancing so much that every day that I don't dance is a day forever lost. It's the joy of moving together as one with my partner to beautiful music that does it for me. It's like we become one creature with 4 legs! I hope to share that joy with as many people as I can," said Seyer.
Private dance lessons are offered by Phil Seyer & Associates in Roseville, Sacramento, San Francisco, and Emeryville, for singles and couples. Those taking private dance lesson from Phil include singles looking to improve their social skills, brides and grooms preparing for their First Dance, and couples just wanting to experience the joy of partner dancing. More information is available at LoveMusicLoveDance.com. Phil wrote the first extensive article on Nightclub two step, which was published in Dancing USA magazine and later on his website.
Seyer studied formally to be a dance teacher with Diane Jarmolow of the Dance Teachers College and Argentine tango master, Ken Delmar. Seyer has been teaching partner dances for more than 10 years. His private dance lessons include: wedding dances, ballroom dancing, Argentine tango, American tango, salsa, bachata, nightclub two step, swing, hustle as well as other ballroom dances like waltz, foxtrot, quickstep. Phil's favorite swing dances are: west coast swing, east coast swing, and Carolina shag.
He remembers loving dance at age 4 and then again at age 7, but later hated dance when he was forced to do it by well-meaning, but apparently really ignorant teachers who forced him to dance with the threat that he couldn't play baseball if he didn't dance. By forcing him to dance before he was ready they almost destroyed his dancing life.
At Valparaiso University in Indiana, as a music major, Phil was again pressured to dance by a desperate, band director who was conducting a Mozart Opera and needed extras. Phil didn't see how dancing was a requirement for his degree in music, so he refused. He was still terrified of moving to music on the dance floor. Years later, dancing was still in Seyer's heart, although buried by insight bereft bullying teachers who didn't understand how their actions would crush the psyche of dance-shy disciples.
The joy of dancing was not to forsake Phil Seyer.
"I realized that dancing was a really important social skill, so I decided to take private dance lessons." said Seyer. "I took private lessons because I was afraid of looking stupid in group classes," he explained. Cupid's reward came to Seyer later when a grateful girlfriend praised him saying, "You really showed a lot of respect for women by taking those dance lessons.'"
After several private dance lessons, Phil graduated to group lessons and began dancing every weekend for several years, taking a lesson before each dance. After many years of dancing, Phil decided to become a dance teacher and studied formally at the Metronome Ballroom in San Francisco. Phil currently teaches private lessons as well as special private group classes at special events, such as those sponsored by Professionals Guild. Phil teaches dance at Bay Area and Sacramento singles parties, corporate parties, reunions, birthday parties, wedding receptions, residence appreciation parties. Phil can be reached at 925-888-4392 or 916-772-7555.
###