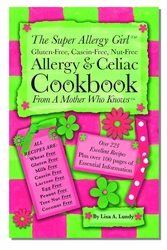 One of my most firm beliefs is that consumers should get their medical advice from a licensed physician or other health care provider. I always direct consumers to deal with a doctor or other practitioner for medical counsel
Buffalo, NY (Vocus) July 22, 2009
When motivational speaker and allergy and celiac cookbook author Lisa A. Lundy received an e-mail this Spring that advertised how consumers could become health coaches in just 90-minutes and at no cost, she was stunned and not too pleased. Help for consumers trying to sort through the maze of information in the health and wellness area is now available in a new video and Health and Wellness Buyer Beware Tip sheet that you can download from Lundy's website free of charge at http://www.TheSuperAllergyCookbook.com. As a mother who has dealt with a child with life threatening health issues, she knows firsthand how difficult it can be to decipher what is good information and what is not worthwhile. With the extraordinary growth in the health and wellness market and the gluten-free market, new websites and blogs are being launched on a daily basis. In the new video and Buyer Beware tip sheet, Lundy provides ideas on what to look for and ideas on how to determine if someone has credibility.
As the author of The Super Allergy Girl™ Allergy & Celiac Cookbook - From A Mother Who Knows™, a gluten-free, dairy-free, egg-free, peanut free, tree nut free and other allergen free cookbook, Lundy has been personally approached by an individual who wanted to link his health website to Lundy's website - yet upon questioning, the individual had no training, no experience, no knowledge in the area of health or wellness. He told Lundy he was getting the information he was posting on his website from books and other websites. In the Health & Wellness Buyer Beware tip sheet, Lundy gives consumers ideas on what to look for and what to be wary of in a concise manner.
She has over 10 years of experience with both IgE mediated and non-IgE mediated food allergies, celiac disease, gluten intolerance, gluten-free baking, special diets, nutrition, malnutrition and malabsorption. Her 7-year-old daughter, Anne, has had serious problems absorbing vitamins, minerals, and essential fatty acids from the foods she eats, a problem which caused significant health issues, which were portrayed in a FOX 5 NYC News story that aired three years ago. Thanks to nutritional IV therapy, Anne has improved dramatically from the FOX 5 NYC News story although she still is receiving medical treatments for her health issues. Lundy is an advocate for people having proper medical guidance and not self-medicating. "One of my most firm beliefs is that consumers should get their medical advice from a licensed physician or other health care provider. I always direct consumers to deal with a doctor or other practitioner for medical counsel," Lundy stated. "If a consumer does not like their doctor, then they can find, in many cases, a new physician."
One of Lundy's Buyer Beware tips is that some cookbooks marketed as gluten-free actually contain gluten, a fact that anyone can verify by reading public book reviews on Amazon.com. "I don't know what happened in the past that cookbooks containing gluten were sold as gluten-free cookbooks. The simple fact is that today, there still are cookbooks on the market that advertise that they are gluten-free when in fact they contain recipes that do call for gluten," said Lundy. "Consumers today, more now than ever, need to be educated so they get the best results for their efforts."
Lundy and her husband, Randy, have plenty of results to show with their daughter. Anne has avoided seizures, frequent hospitalizations, a feeding tube, and brain damage because of their interventions and the medical support they found for her. Lundy's content rich website is loaded with white papers, tip sheets, videos, and recipes - all available for free - to help consumers with food allergies, celiac disease, food sensitivities and intolerances and special diets. Her book is available at http://www.TheSuperAllergyCookbook.com.
Size: 6" x 9"
Pages: 405 pages
Soft Cover, Perfect Bound
ISBN#: 978-0-9797542-0-3
Price: $28.95
Contact: Ms. Lisa Lundy
Phone: (716) 835-6392
###