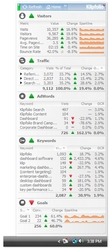 Ottawa, Canada (PRWEB) July 22, 2009
Klipfolio, Inc., the leading developer of desktop dashboard software for operational performance management, today announced a significant update for Klipfolio Dashboard for Google Analytics. Building upon 24x7 visibility for web metrics, Marketers now have desktop access to Goal Conversion Rates too.
Better visibility into web analytics data benefits marketing professionals, new media agencies, and web masters alike. Klipfolio Dashboard for Google Analytics helps those professionals and organizations improve web-based marketing ROI by removing barriers to using Google Analytics more effectively and often.
Unlike web-based or other applications that must be opened and can hide behind other windows, Klipfolio Dashboard for Google Analytics is a desktop sidebar that keeps key web metrics always visible for "top of mind" awareness and at-a-glance understanding. It enables side-by-side comparison of KPI reports, with current and previous date ranges to provide context and trending information.
With Klipfolio Dashboard for Google Analytics, web-site analysts can read accounts with multiple websites and sub-domains in one place. Its unique ability to duplicate Klips - the small graphical displays that make up Klipfolio dashboards - enables side-by-side goal tracking of multiple websites.
Klipfolio has also updated its Google Adwords Klip to provide more information and Goal Conversion Rate data for Traffic Sources, Adwords, Keywords, and Goals. Its sorting capabilities mean users can quickly see what is performing best, filter out nonperformers, and key in on what matters most. They can drill down on traffic sources for a summary, and then drill into their top referring sites for details.
Klipfolio Dashboard for Google Analytics lets users choose among a variety of Klips, so they can display the web analytics and trends over time that matter to them. Available Klips include top keywords, Web visitor statistics (including page views and bounce rates), traffic sources, goal performance, and Google Adwords campaign performance metrics.
To learn more or download a free trial version of http://klipfolio.com/products/google-analytics-dashboard Klipfolio Dashboard for Google Analytics please visit http://klipfolio.com/products/google-analytics-dashboard
About Klipfolio Inc.
Klipfolio develops Klipfolio Dashboard -- the desktop dashboard for business -- to help the Fortune 1000 increase the visibility of business information for faster, informed decisions that improve performance and profitability. Klipfolio Dashboard is the only enterprise dashboard that presents information directly on the desktop where it's always visible, accessible, and actionable. Founded in 2001, Klipfolio is privately held and headquartered in Ottawa, Canada. Clients include Intel, Staples, EMC, and Lufthansa.
For more information visit http://www.klipfolio.com, call +1.877.233.6149 US and Canada or +1.613.233.6149 Worldwide, or email sales (at) klipfolio.com.
###