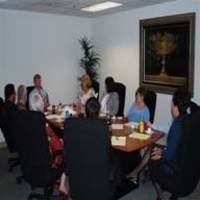 Our Solutions Forum program is cutting edge in our industry, as we continue to aggressively seek out sound measures for reducing costs for our clients
Springfield, MA (PRWEB) July 22, 2009
Unemployment Tax Control Associates (UTCA) is proud to introduce their "Solutions Forums." The forums focus on particular areas of interest and challenge within a common group of employers, providing issue-specific problem solving discussions and idea exchange. The first round of luncheon meetings, hosted in June and July, focused on medication administration issues confronting human service providers due to strict state mandates in this area of their operations. The unique challenges of implementing medication administration programs in a manner that is fair to workers and practical for management; while reducing unemployment exposure was discussed.
"Our Solutions Forum program is cutting edge in our industry, as we continue to aggressively seek out sound measures for reducing costs for our clients", says Tim Phelan, ESQ, Vice President of Client Services. "Through effective case monitoring and identifying risk trends, we can take the necessary proactive steps regarding specific issues or policies to prevent future UI costs. We realized that by combining our expertise in unemployment with the talent and experience of our clients, in an idea exchange environment, that creative and innovative solutions would result. Our initial forum was a resounding success. We are grateful to the employer groups who participated in this forum; as we were able to work with them to develop practical solutions that can be implemented in the work setting."
UTCA will continue to host their "Solutions Forums" as an integral part of their unemployment cost management program and will conduct periodic client surveys to identify issues which can be placed in the forums for discussion. For more information, call Deb Methe at 413-732-8084 ex 101 or email at dmethe@utcainc.com
About UTCA:
UTCA is a leading national unemployment insurance service provider employing this industry's most knowledgeable staff of unemployment professionals including their own in-house legal staff, claim analysts, appeal administrators, hearing representatives and tax consultants. UTCA assists clients in reducing the costs and complexities of managing their unemployment compensation programs, utilizing a unique pre-emptive approach to managing unemployment costs. By providing unparalleled customer solutions, they have earned the reputation as the "blue chip" company in the field of unemployment cost management.
This press release was distributed through eMediawire by Human Resources Marketer (HR Marketer: http://www.HRmarketer.com) on behalf of the company listed above.
###