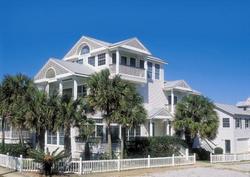 Vacation rentals can be as unique as fingerprints. Each one is different in its own way and so it can be a challenge to compare apples to apples
Destin, FL (PRWEB) July 23, 2009
Traveling families across the U.S. are making themselves at home at vacation rental properties and according to information from across the travel industry, plan to continue to do so in even greater numbers over the next year.
This groundswell in the popularity of vacation rentals is due in no small part to website like GetMoreVacations.com. The site directs guests to vacation rentals that provide them with free golf, deep sea fishing trips, water park admissions, amusements, wildlife tours and much more - every day of a guest's stay. As vacation rentals continue to add to their menu of value-added activities and services, guests are taking notice. The popular travel website, TripAdvisor.com, recently conducted a survey of 2,800 travelers who indicated that they plan to stay at a vacation rental property within the coming year due to the extraordinary value that the rentals provide. Fully 89% of those who stayed at a vacation rental in the previous year intend to return within three years and would recommend a vacation rental to family or friend. (PhoCusWright)
"Our reservations are up from last year," says Jeanne Dailey, owner and president of Newman-Dailey Resort Properties in Destin, Florida. "We've kept our prices competitive but guests love our Funtastic Recreation Program that gives them a free round of golf, tickets to the water park, admission to the Track (amusements), a dolphin cruise, unlimited DVD rentals and more every day they stay with us. Families love it because if you've budgeted for these things that you get with your stay, that frees up about $175 every day for other things. Sometimes, it makes it possible for them to come back later in the year for a three or four day stay that might not have been possible without that savings."
ResortQuest, a leader in the vacation rental industry and one of the most recognized brands, features its own program called the Passport to Fun. It provides guests of their northwest Florida and coastal Alabama properties with free popular activities like deep sea fishing, snorkeling, bicycle rentals, water park admission, a dolphin cruise and dining. Increasingly, programs like ResortQuest's and Newman-Dailey's are the determining factors for guests making their vacation rental selections.
In recent years, vacation rentals suffered because of consumers' fears that the property might wind up being 'SNAD' - significantly not as described. This is a condition in which guests may feel misled by photos taken years earlier, exaggerated attributes or promoted features completely missing upon arrival. A 'SNAD' property can leave guests scrambling to recover during what should be a fun and rewarding time with their family. However, with the advent of third-party review sites like FlipKey.com, guests can read comments from other travelers like themselves and make a solid determination from there.
"Vacation rentals can be as unique as fingerprints. Each one is different in its own way and so it can be a challenge to compare apples to apples," says Dailey. "Guests looking to avoid that kind of experience should book with a reputable, professionally-managed company that provides them with a contact number in case of emergencies or late arrivals, offers them rental insurance and allows them to book with a credit card. That will afford them with a great deal of protection on their vacation investment. Newman-Dailey has a four-and-a-half star rating out of a possible five (on FlipKey). That kind of credibility lets guests know that we are who we say we are - providers of quality vacation rental properties."
GetMoreVacations.com was launched in April of 2008 by Amenity Services Inc. (ASI) - the nation's leading provider of amenity programs to vacation rental properties. These programs provide vacationing guests with daily complimentary golf, deep sea fishing, water parks, amusement parks, unlimited DVD rentals and much more. These give guests of vacation rental properties a more "all-inclusive" vacation experience by providing the best activities an area has to offer in one convenient, easy-to-use program. ASI was founded in 1996 and is based in Destin, Florida. ASI currently provides programs in Alabama, Florida, North Carolina and West Virginia and has a large, rapidly growing client base of some of the most respected names in the vacation rental property management industry.
###