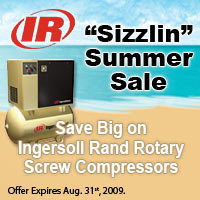 There's enough paperwork in the world already.
Bolingbrook, IL (PRWEB) July 22, 2009
Large industrial-sized air compressors are notorious for breaking down during the hot, humid summer.
Plus, the threat of increased inflation is making small business owners hot under the collar.
Instead of raising prices, AirCompressorsDirect.com - a leading online air compressor superstore -- is actually lowering prices on their complete line of Ingersoll Rand rotary screw compressors this summer.
"Since the government isn't stimulating small business, we decided to offer business owners a much needed burst of cool compressed air," said Jon Hoch, founder and CEO of AirCompressorsDirect.com.
AirCompressorsDirect.com simply lowered their prices on all 63 Ingersoll Rand rotary screw models available, eliminating the need for mail-in rebates.
"Unlike other competitors, you don't have to fill out a rebate form and mail it in to save hundreds of dollars," said Hoch, "There's enough paperwork in the world already."
Visit our Ingersoll Rand Rotary Screw Air Compressor page to see the entire line of products at AirCompressorsDirect.com. Hurry, the sale ends August 31, 2009.
Power Equipment Direct operates nine niche online superstores. In addition to AirCompressorsDirect.com, the Bolingbrook, IL-based company operates ElectricGeneratorsDirect.com, PressureWashersDirect.com, SnowBlowersDirect.com, MowersDirect.com, WaterPumpsDirect.com, SumpPumpsDirect.com, ChainSawsDirect.com and LogSplittersDirect.com
# # #