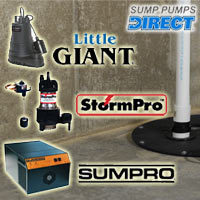 The addition of these brands gives homeowners and contractors a broader offering for not only backup sump pumps but primary sump pumps as well
Bolingbrook, IL (PRWEB) July 22, 2009
As the summer storm season continues to hammer most of the country, SumpPumpsDirect.com announced today, the expansion of its online product offering with the inclusion of Little Giant, StormPro and Sumpro sump pumps.
With the addition of these four new product lines, the battery backup sump pump superstore now has a wider product offering.
"The addition of these brands gives homeowners and contractors a broader offering for not only backup sump pumps but primary sump pumps as well," said Jon Hoch, founder and CEO of Power Equipment Direct, the parent company of SumpPumpsDirect.com. "Now contractors can take advantage of the professional sump pump models offered by StormPro and Sumpro."
In addition to carrying Little Giant, StormPro and Sumpro sump pumps, SumpPumpsDirect.com also carries a complete line of Basement Watchdog, Wayne and sump pump accessories including, discharge hoses, check valves and sump pump floats.
Power Equipment Direct operates nine niche online superstores. In addition to SumpPumpsDirect.com, the Bolingbrook, IL-based company operates AirCompressorsDirect.com, ElectricGeneratorsDirect.com, PressureWashersDirect.com, SnowBlowersDirect.com, MowersDirect.com, WaterPumpsDirect.com, ChainSawsDirect.com and LogSplittersDirect.com.
###