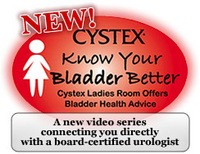 Edison, NJ (PRWEB) July 23, 2009
According to a study in the American Journal of Clinical Nutrition, frequent sexual intercourse (three or more times a week) is associated with a greater risk for a UTI compared with less frequent intercourse (less than once a week).
"An increase in sexual activity can lead to urinary tract infections and is often referred to as honeymoon cystitis, however, you don't just get cystitis on your honeymoon," says Elizabeth Kavaler, M.D., urologist and author of A Seat on the Aisle, Please! The Essential Guide to Urinary Tract Problems in Women (Copernicus Books, 2006). Any boost in the romance department can put you more at risk for a UTI.
The increased genital friction can more easily introduce bacteria into the female urethra (leading to the bladder), which for some women who have issues with urinating properly, can increase the chance of getting a UTI.
If you think you have a UTI you need to see a physician for proper treatment, but until then there are some things that you can do to ease the pain and keep the infection under control. Dr. Kavaler suggests drinking a lot of water, emptying your bladder frequently, and taking Cystex, an over-the-counter medication that will not only take the pain of the infection away, but it will also slow the reproduction of the bacteria in the bladder until you can see a doctor.
View the new Cystex "Know Your Bladder Better" video series, including a new video on honeymoon cystitis, or connect with Dr. Kavaler directly by visiting the new interactive "Ask the Urologist" feature to submit an informational question about bladder health.
Please note that the new "Ask the Urologist" and Q&A with Dr. Kavaler on the Cystex Web site or other sites associated with the Cystex Web site are for informational purposes only and should not be construed as a personal medical diagnosis or formal medical advice. If you have any health questions or concerns, we recommend that you seek medical advice from your physician.
Note to media: To set up an informative interview with Dr. Elizabeth Kavaler or to learn more about the new Cystex "Know Your Bladder Better" initiative, please contact Laura Giardina.
###