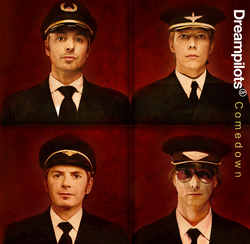 Nashville, TN (PRWEB) July 23, 2009
Hailing from the fjords of Scandinavia, Norwegian rock band Dreampilots is set to release their North American debut album Comedown on September 29th. The highly-anticipated project will be the first release through Red Hammer Records' new major distribution partnership with E1 Entertainment Distribution (formerly Koch Entertainment).
Frontman and former Word Records UK artist Oddi Nessa teamed up with bass player Gulleiv Wee, a founding member of the platinum-selling pop band The September When, and production and keyboard maestro Inge Engelsvold to form Dreampilots. The evolution was complete with the addition of drummer Karl Oluf Wennerberg, who is also the drummer for the multi-platinum super-group a-ha.
Dreampilots released their first CD If You Ever Come Down in Oslo, Norway in September of 2005, amidst the buzz of one of the most ingenious and infamous marketing stunts in Norwegian entertainment lore.
Dreampilots was the first Norwegian band ever to rent the venue Valle Hovin arena in Oslo where other notable bands such as Rolling Stones, Bruce Springsteen, U2 and others have graced the stage. Several thousand fans joined the release party that lives on in infamy as "The Stunt."
As frontman Oddi Nessa recalls, "It was crazy fun and one of the best head-shaking CD release concerts ever. The response was overwhelming and talk of the CD and the show went on for months after."
As one music journalist mused, "After all, these guys had their release party in Valle Hovin arena! They deserve a bit of respect for pulling off such a stunt!" ~ Puls Music (http://www.puls.no)
"Dreampilots' Valle Hovin stunt not only answers the question, it confirms the logic of their madness, for their music belongs in a stadium." ~ Stavanger Aftenblad (Stavanger newspaper)
In April, Dreampilots became the surprise "buzz band" at GMA Music Week in Nashville, where they debuted the project to media outlets and retailers that had gathered from all over the U.S. A proper North American media tour is being planned for this fall.
Comedown was produced and tracked on the western coast of Norway at Dreamlab Studio in Stavanger and The White Room in Oslo. Additional production and mixing were done by Darren Bowls at Red Hammer Records in Portland, Oregon, USA.
Red Hammer Records has released the title track "Comedown" as the first radio single. A companion music video was shot in Europe and will be released in August. Both the single and the video will be available on iTunes prior to the album's release.
For more information, contact Brian Mayes at Nashville Publicity Group, (615) 771-2040.
# # #