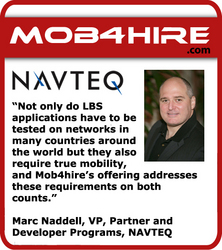 Not only do LBS applications have to be tested on networks in many countries around the world but they also require true mobility, and Mob4hire's offering addresses these requirements on both counts
Calgary, AB (PRWEB) July 23, 2009
Mob4hire is pleased to announce that it has signed a co-marketing agreement with NAVTEQ - the leading global provider of digital map, traffic and location data that enables navigation and location-based platforms around the world. This will allow the NAVTEQ mobile developer community to take advantage of Mob4hire's global community of 14,000 testers in 105 countries in order to test their applications in the fragmented world of mobile.
"Mob4Hire has unique advantages as it relates to location based services (LBS)" states Stephen King, CEO Mob4Hire. "We have identified this market as a huge opportunity because remote emulation techniques are not useful for LBS testing due to their fixed nature. We have real people with real handsets testing these applications so they can replicate the customer experience to perform functional testing as well as market research. In fact, there is no effective way to test on a foreign network unless you are on that network. It is a location specific problem which plays perfectly to the strengths of our crowd-sourced methodology.""
"We felt that Mob4Hire's unique service offering will assist us as we continue to pursue new and innovative ways to support our developer community" states Marc Naddell, vice president, Partner and Developer Program, NAVTEQ. "Not only do LBS applications have to be tested on networks in many countries around the world but they also require true mobility, and Mob4hire's offering addresses these requirements on both counts"
A new report by Berg Insight predicts that the number of European users of mobile location-based services will grow from 20 million users in 2008 at a compound annual growth rate (CAGR) of nearly 37 percent to reach 130 million users in 2014. Some estimates peg LBS applications to be integral to approximately 70% of new mobile apps on the market today. Berg Insight also estimates that more than 20 percent of mobile handsets shipped in 2009 will feature GPS and that the installed base in Europe will surpass 50 percent of total handsets already in 2013.
Mobile fragmentation is currently estimated to be a $3 billion problem. It occurs when mobile software developers are faced with the onerous task of ensuring that their software works properly on the 25,000 different handsets, 700 different networks and the multitude of operating systems, platforms and browsers. This requires detailed, location-specific testing on the part of the mobile developer community in order to bring their product to market. The plethora of mobile application stores has created a tremendous groundswell of activity in mobile software, and companies such as Mob4Hire have been created to solve this daunting task.
About NAVTEQ:
NAVTEQ is the leading global provider of digital map, traffic and location data that enables navigation and location-based platforms around the world. NAVTEQ supplies comprehensive digital map information to power automotive navigation systems, portable and wireless devices, Internet-based mapping applications and government and business solutions. The Chicago-based company was founded in 1985 and has approximately 4,000 employees located in 190 offices and in 39 countries.
About Mob4HIre
With 14,000 handsets on 321 operators in 105 countries worldwide, Mob4Hire (http://www.mob4hire.com) is the leader in real world; crowd sourced, mobile application functional and usability testing as well as product and market research. Using Web 2.0 social networking, Mob4Hire significantly reduces mobile application testing costs and reduces time to market by connecting developers with eager, lower priced, crowd sourced testers and focus groups. Mob4Hire also provides their unique micro-payment crowd-sourced MAAP technology (Mob4Hire as a Platform) to developer networks and app stores such as O2 Litmus to allow for private labeled communities to be added to existing Carrier and Handset Manufacturer enterprise systems. Founded in 2007, Mob4Hire was recently chosen as a finalist the Red Herring 100 and were finalists in GSMA Barcelona for both the GSMA Top Innovator Award (European) and Mobile Monday Peer Awards, placing second. Other recent accolades include an Under the Radar Audience Choice Award, as well as being chosen as one of Backbone Magazine's top 20 Web 2.0 firms. Mob4Hire is headquartered in Calgary, Alberta, Canada with offices in Victoria, British Columbia, and London, U.K.
# # #