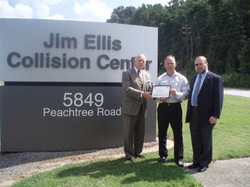 Atlanta, GA (PRWEB) July 23, 2009
In early July 2009, Silver-star veteran Doc Scheffler went to Jim Ellis Collision's Marietta estimate and drop location for a new hubcap for his car. When Marc Sizemore, director of the Jim Ellis Collision Center, noticed the silver star medal on the front license plate. Mr. Sizemore asked Mr. Scheffler about his tour of duty in Iraq because the Silver Star - the third highest honor in the Army - is awarded "for gallantry in action".
While the two gentlemen spoke, Mr. Sizemore found Mr. Scheffler's hubcap in stock, but refused to accept payment in honor of Mr. Scheffler's service. Sizemore, who was in the Air Force, also mentioned that his oldest son, John, is now a senior at West Point.
A week later, on July 15, 2009, the Department of the Army presented Sizemore with a Certificate of Appreciation that reads: "The Department of the Army salutes you and is appreciative of your patriotism for demonstrating unwavering loyalty and support for our Army and its sister services throughout Georgia. Your pride and dedication for our soldiers and families as they serve our country reflects great credit on you, your community, our state and our Nation."
The award was presented by Duke Doubleday, Civilian aide to the Secretary of the Army for Georgia, and veteran Doc Scheffler.
About Jim Ellis Automotive Dealerships: The Jim Ellis Auto Dealerships are a family-owned and operated business with dealerships located in Atlanta and Marietta, Georgia. The Jim Ellis dealerships sell new cars from Audi, Chevrolet, Buick/Pontiac/GMC, Hyundai, Mazda, Porsche, Saab and Volkswagen, as well as a wide selection of used cars. To learn more, or to browse a complete inventory online, please visit the Jim Ellis website
About Jim Ellis Collision Center: In order to meet the needs of Atlanta drivers, Jim Ellis has a separate collision center to perform automotive repairs when you need them the most, with the most highly-trained service technicians and serving all insurance companies. To learn more about this business please visit the Jim Ellis Collision Center website
# # #