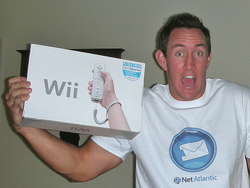 What a fun way to promote our services
Salem, Mass. (Vocus) July 23, 2009
Email Service Provider Net Atlantic joined the viral Internet marketing campaign at iwearyourshirt.com to promote their email marketing products on July 13 -- also known as Embrace Your Geekness Day. Net Atlantic's day was featured on YouTube, Ustream.tv, Flickr, and Twitter.
"As an entirely Internet-based company, we employ many highly-skilled technical people," said Net Atlantic CEO Andy Lutts. "When choosing a day to join this campaign, Embrace Your Geekness Day seemed so appropriate." Net Atlantic streamed the July 13 video footage in a conference room so staff could watch and discuss the campaign during the day.
As part of this initiative, Net Atlantic gave away a Nintendo Wii to one person that signed up for a free email marketing trial on July 13, 2009.
"What a fun way to promote our services," Lutts said. "We hope that those who try our email marketing solution will become part of our valued customer-base."
About iwearyourshirt.com
iwearyourshirt.com was founded by Jason Sadler, who is selling space on his chest. He wears a sponsored T-shirt for each day of the year. The brands and companies who buy a spot will be promoted using social media tools like Twitter, Facebook, Flickr, YouTube, Ustream.tv, multiple other video sharing sites and the iwearyourshirt official blog for daily shirt exposure. Please visit http://www.iwearyourshirt.com for more information.
About Net Atlantic
Established in 1995, Net Atlantic was one of the first email service providers and Web site hosting companies. Net Atlantic's goal is to help businesses and non-profit organizations succeed online with effective email marketing services and Internet tools. To learn more, visit http://www.netatlantic.com or call 978-219-1900.
Copyright © 2009 Net Atlantic, Inc.
Contact:
Michele Campbell
Marketing Manager
Net Atlantic, Inc.
978-219-1968
# # #