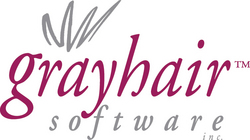 With GrayHair's continued expansion not only in the mail tracking side of the industry, but also with address hygiene services and IMb Management, I am confident that John's track record of success in the direct marketing industry, combined with his experience in motivating and directing sales teams will enhance our position as market leader
Mt. Laurel, NJ (PRWEB) July 23, 2009
GrayHair Software, the leader in developing and providing direct marketing services to business mailers, has announced the expansion of its executive leadership team with the addition of John Cloyes to lead its sales efforts.
John brings over 25 years of sales and management experience in the direct marketing service industry and has excelled in the development of growing large national accounts. In the past he has worked with leading direct marketing companies including Columbia House, Bookspan, Disney, and International Master's Publishers, and is ideally suited to growing GrayHair's success in the fields of mail tracking and address hygiene services. Prior to joining the team, John has held senior management positions with Experian, Dun & Bradstreet, and the American List Counsel.
"With GrayHair's continued expansion not only in the mail tracking side of the industry, but also with address hygiene services and IMb Management, I am confident that John's track record of success in the direct marketing industry, combined with his experience in motivating and directing sales teams will enhance our position as market leader," said Cameron Bellamy, President of GrayHair Software. "I am pleased to welcome John to the team, where he will play a key role in promoting GrayHair's newest offerings for business mailers including GHSelect and MailPort."
John is expected to be an integral part in supporting this wave of new product releases which will further cement GrayHair as the leader in services for business mailers. These products include GHSelect, an Intelligent Mail Barcode Assignment and Management tool that generates Basic and Full Service IM barcodes. This, along with its sister product, SelectTrak, a reporting service built inside GHSelect, allows resellers to offer GrayHair's industry-leading mail tracking services to their customers. In the next month, GrayHair is also expected to officially announce the release of MailPort, a service that will allow easier communication between mailers and the USPS PostalOne! system. This offering, along with GHSelect's Intelligent Mail Barcode assignment capabilities, will be the foundation for mailers who want to move towards meeting USPS's Full Service requirements.
For more information about how GrayHair can help your company can meet these full service requirements, contact Bobby Tiedeken at 856-924-2253 or via email (btiedeken@grayhairsoftware.com).
About GrayHair Software
GrayHair Software has been an innovator in the mail industry since 2000, developing products and services to improve and automate the tasks of business mailers. GrayHair's solutions address critical mailing activities such as mail tracking, postage payment and reconciliation, ACS™ tools and a variety of mail processing activities. For more information, visit the GrayHair Software website at http://www.grayhairsoftware.com.
GHSelect™ , SelectTrak™, MailPort™, MailTrak®, MailTrak AQ™, and MailReport™ are advanced barcode assignment, mail tracking, reporting, address quality and postage management applications, supported by the industry's leading experts, connecting clients, partners and the industry via a national network of integrated sales, support and data facilities.
# # #