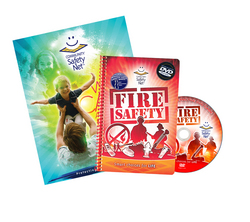 Our mission is to protect kids for LIFE
Kansas City, MO (Vocus) July 23, 2009
Community Safety Net, a leading provider of educational safety resources for children, is seeking responsible corporate citizens and celebrity support to help protect young people across the United States and Canada.
Community Safety Net (CSN) is a family-run, values-oriented company that produces a series of highly regarded safety resources created especially for kids and their families. The company has already provided its innovative safety materials to more than 3 million children across North America.
"We know that we have a series of exceptional educational resources on our hands. We also know that with dedicated, likeminded partners, we can reach an even greater number of young people," says National Safety Director Corey DesJarlais.
CSN has partnership opportunities available for responsible corporate citizens to support inner city children in their communities. The company is also seeking a celebrity spokesperson to help raise the profile of its valuable child safety resources.
In recent years, Community Safety Net has enhanced its educational offerings through multimedia technology, producing a series of four interactive DVDs that integrate with printed materials from CSN's safety library. Three of the four DVDs — on the topics of Fire Safety, Personal Safety, and Rural Safety — have been recognized for excellence at the Summit International Awards Creative competition (Educational Video category).
"Our mission is to protect kids for LIFE," says Mr. DesJarlais. "Our award-winning materials have been proven to help protect children from harm, while educating parents and guardians on a variety of safety topics. With the synergies created through anticipated corporate and celebrity partnerships, we will be able to positively impact the lives of many, many more kids in communities all over the United States and Canada."
###