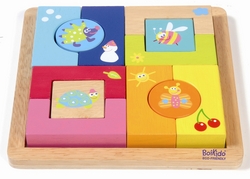 Chicago, IL, (PRWEB) July 23, 2009
Boikido Wooden Toys boikido announced today that its eco-friendly toys have received industry awards from Parents' Choice Awards parents' choice and Creative Child Magazine creative child. Boikido's Eco-friendly 4 Seasons Block Puzzle is a 2009 Parent's Choice Approved Award winner and a Creative Child 2009 TOY OF THE YEAR winner (for Baby & Toddler Puzzles category). Boikido's Eco-friendly Tina the Turtle is a winner of Creative Child's 2009 SEAL OF EXCELLENCE AWARD (for Baby & Toddler Wooden Toys category).
While the toys were awarded for being fun, safe and promoting imaginative play, they were also recognized for being socially and environmentally responsible. The 4 Seasons Block Puzzle and Tina the Turtle, part of Boikido's Eco-friendly line of wooden toys, are made of Forest Stewardship Council (FSC) certified wood that comes from monitored plantation sources that are managed to meet the social, economic and ecological needs of present and future generations. The toys are painted with non-toxic water based paints and are packaged with recycled cardboard packaging printed with soy bean ink, certified by the ASA (American Soybean Association).
Boikido's Eco-friendly toys were introduced early in 2009, joining the full line of Boikido's age appropriate toys that are known for promoting active, self-driven play. The toys are creatively
designed with whimsical colors and themes and meet or exceed all European and US safety standards.
David To, US Distributor for Boikido Wooden Toys, said, "Parents today are looking for more environmentally-friendly toys for their children and our Boikido Eco-friendly wooden toys are a great choice. Winning these awards is further support that environmentally responsible toys are good for both the environment and for children."
About Boikido:
Incorporated in France, Boikido (http://www.boikido.com) is owned by Let's Go S.A., a subsidiary of Challenger International S.A., the leading nursery and toy distributor in France. Boikido has been making premium wooden toys since 2003 and has built up a strong following among European parents. The award-winning Boikido Wooden Toys promote self-driven play by incorporating innovative and whimsical designs that encourage and stimulate children's imaginations. Boikido offers over 70 different varieties of wooden toys for children ages one through four and are available in over 15 countries worldwide. Interested retailers can contact Boikido.cs (at) gmail.com or (847) 984-6158 for ordering information.
About Parents' Choice Foundation:
Established in 1978, Parents' Choice (http://www.parents-choice.org) is the nation's oldest nonprofit guide to quality children's media and toys. Parents' Choice reviews books, toys, music, television, software, videogames, websites, and magazines for children and families of all achievements and backgrounds.
About Creative Child Magazine:
Creative Child Magazine (http://www.creativechild.com) is a national publication that provides information on how to nurture creativity and raise well-balanced children. The Creative Child Awards recognize products that meet the publication's high standards for nurturing creativity, safety, design, durability and social responsibility.
###