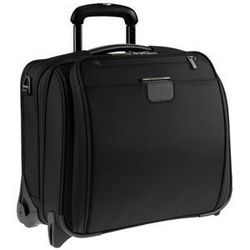 Our goal is to meet the expectations of today's business traveler by offering a lightweight, checkpoint friendly business case collection
Hauppauge, NY (PRWEB) July 23, 2009
Briggs & Riley Travelware, a leader in innovative, high-quality luggage and business cases, is re-launching its popular @Work Collection of business cases with 21 newly designed bags. In order to meet the needs of today's business traveler, the complete @Work Collection is checkpoint friendly, a first in the travelware industry. The extensive range of styles in the collection accommodates netbooks and laptops of all sizes with each bag demonstrating a clean aesthetic and supreme organizational features.
The diverse collection includes computer briefs, clamshells, messenger bags, backpacks, rolling business cases and computer sleeves, offering a solution for every business travelers' needs and preferences.
"Our goal is to meet the expectations of today's business traveler by offering a lightweight, checkpoint friendly business case collection," said Jim Lahren, Vice President of Marketing at Briggs & Riley. "All of the bags in the collection uphold the outstanding functionality expected from a Briggs & Riley product."
Inherent to the Briggs & Riley brand, the new @Work Collection ensures thoughtful design of all features to enhance the travel experience. Some of the collection-wide features include: the SpeedThru™ pocket, which provides quick storage of personal items during security checks; the front slip pocket which includes a concealed cell phone holder for security and fast access; the StretchTech® side gussets which open wide for easy access; and a checkpoint-friendly laptop compartment for hassle-free X-ray inspection.
The Briefs and Clamshell cases are on average 20 percent lighter than their predecessors. They feature either a SpeedThru™ section that allows the laptop to remain in the bag during security screenings or a separate neoprene laptop sleeve that can be tethered to the bag at security screenings, reducing the risk of loss or theft.
The rolling business cases feature multi-selection designs that keep the business traveler perfectly organized with separate compartments for a laptop, files and tech gear. The 20" Carry-On Business Upright® has a separate packing section with garment panels that keep clothes in place to minimize wrinkling. The rolling cases also feature an Outsider™ Handle with one-touch operation that offers easy transport and an Interlocking Handle system that stacks and secures a rolling business case on top of any Upright®.
The complete @Work Collection is available in black and four styles come in chocolate as well. All Briggs & Riley luggage and business cases have a lifetime performance guarantee that even covers airline damage.
About Briggs & Riley Travelware
Briggs & Riley Travelware is dedicated to building a lifelong relationship with its consumers by fulfilling all of their travel needs. The company's wide variety of innovative, high-quality luggage and business cases match smart design and exclusive features, with maximum durability and superb value. Briggs & Riley backs all of its products with the best-in-the-industry lifetime warranty that even covers damage caused by an airline. Briggs & Riley Travelware is sold exclusively at specialty luggage stores. Please visit http://www.briggs-riley.com for a full list of the latest products and store locations.
###