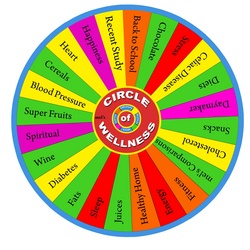 I believe that life is all about balance. Indulging once in awhile is part of living a healthy lifestyle and enjoying a happy life. You can eat dark chocolate occasionally. melslife and mel's Circle of Wellness promote empowerment
Woodland Hills, CA (Vocus) July 23, 2009
melslife.com, a multi-media, advertiser-supported, healthy living social network, which targets echo boomers, has many of the functionalities of social network leaders facebook and myspace, but its emphasis is on food, health and life philosophy. melslife is evolving into an integrated media resource by offering daily mel's Circle of Wellness 90-second vignettes to local radio and television stations to run in their news and lifestyle programming, and offering mobile customers easy-to-find, advertiser-supported, quality video content.
Along with the mobile, radio and television Circle of Wellness vignettes, melslife will have fresh daily online content coordinated to match each vignette that will include at least one full expert interview, links to relevant sites related to the subject matter, links to opposing views on the subject matter, audience coupons and discounts, a shopping list featuring foods to eat, vitamins and supplements to take, and a multitude of social networking functionalities.
As part of melslife's growth and expansion, melslife is redesigning its site and updating it with the latest technology and software to make it easier for its users to connect, comment, and relate to each other. The new melslife site will be unveiled prior to the launch of mel's Circle of Wellness on October 19, 2009. mel's Circle of Wellness will have its own section on the melslife site. Users will be able to search for any mel's Circle of Wellness topic and matching online content.
With its Circle of Wellness section, melslife will be able to give its audience a choice of information from melslife or mel's Circle of Wellness. melslife, which has no experts, caters exclusively to peer review, user comments, and user-generated content. mel's Circle of Wellness is expert-driven advice featuring health, medical, and wellness experts from across the United States, provides studies by major universities and medical organizations, and offers relevant links - pro and con -- relating to the day's Circle of Wellness subject matter.
melslife and mel's Circle of Wellness are for people who want to live healthier lifestyles without hearing someone preach to them. "After making several television and radio appearances and being approached by several media companies wanting to do healthy living or wellness shows, it became clear that there was a demand for our melslife content. I feel like we are making a real difference in people's lives. If you want hope, optimism, and easy-to-digest food and wellness information, come to melslife and mel's Circle of Wellness. We've gotten thousands of positive emails, and our users told us that they want not only peer comments, but expert advice too, with information and site changes daily," according to melslife's 24-year-old founder Melissa "mel" Melcombe.
If you want to know about what foods to eat, chocolate to buy, juices to drink, types of coffee to order, teas to enjoy, alternative foods to seek out, and/or vitamins, minerals, and supplements to take, then melslife is your one-stop information site. melslife has over 400 pages of unique, original content, and with the addition of mel's Circle of Wellness, melslife will be adding approximately five to ten new pages daily beginning this October with its new mel's Circle of Wellness section. "I believe that life is all about balance. Indulging once in awhile is part of living a healthy lifestyle and enjoying a happy life. You can eat dark chocolate occasionally. melslife and mel's Circle of Wellness promote empowerment," says founder mel.
melslife is owned, operated, and distributed by Richmel Media & Productions. "We spent almost two years understanding new media - and wellness in new media - and learned that there was no new media secret sauce. It became very clear that new media was essentially old media in that advertisers want reach, frequency, and integrated media, along with all the social networking engagement opportunities, to sell and brand their products. Circle of Wellness will allow advertisers to come to melslife and receive a one-stop solution to many of their advertising needs," says Richmel CEO Rich Melcombe.
melslife has pushed its global, native-language site expansion initiative until early 2011, when it anticipates improved local market conditions.
###