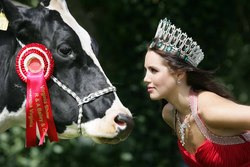 For all their hard work in the making of Baileys' quality cream ingredient, it makes perfect sense that the world's no. 1 liqueur should recognize and reward the fairest of them all
Dublin, Ireland (PRWEB) July 23, 2009
Over 30 Holstein Friesian beauties from all over the island of Ireland will be making their way to the little village of Virginia in Country Cavan, set in the heart of Ireland's farmland, for a chance to win the Baileys Irish Champion Cow contest, a event which attracts an €8,000 prize fund and thousands of spectators every year. Superior milk production is a must for short-listing but final judgment on the day of the event will be on looks alone with marks going for shapely legs, an elegant neck, good-shaped back and nice udders. 275 million litres of milk a year from over 40,000 Irish cows across 1,400 farms is needed to make Baileys®. Together, they contribute to the 2,300 glasses of Baileys® that are drunk every minute of every day across 130 countries and this prestigious event is only open to the best bred 'supermilkers' amongst them, that is cows producing over 11,000 litres of milk a year. "For all their hard work in the making of Baileys' quality cream ingredient, it makes perfect sense that the world's no. 1 liqueur should recognize and reward the fairest of them all," explains Competition Director, Brendan Smyth.
But of course its not just about looks but good breeding too and that is serious business in the dairy industry where the competition is widely acknowledged in agricultural circles as one of the most prestigious dairy livestock competitions in Ireland: "For breeders, winning the 'Baileys®' is like having a horse win at the Derby," continued Brendan Smyth.
Enjoy Baileys® sensibly.
###