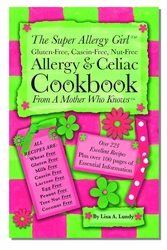 Parents and consumers can substantially improve their own health and well being with respect to allergies by becoming educated and by being proactive
Buffalo, NY (Vocus) July 24, 2009
The increase in allergies in America is obvious and dramatic when you look at some of the statistics. Allergy is the 5th leading chronic disease in the U.S. among all ages and the 3rd most common chronic disease among children under 18 years of age according to a paper published by the National Academy on an Aging Society in 2000. In the last ten years alone reported food allergies have risen 24% among children under the age of 5 years and 19% among children ages 5-17 years reports the National Center for Health Statistics. The prevalence of asthma increased 75% from 1980 to 1994 and the asthma rates in children under the age of five have increased more than 160% for the same period a Centers for Disease Control series titled the Morbidity and Mortality Weekly Report (MMWR). About 70% of asthmatics also have allergies reports the World Health Organization in 2007. Consumers can find help in the form of a new video and tip sheet provided by motivational speaker and cookbook author, Lisa A. Lundy, which you can download free from her website at http://www.TheSuperAllergyCookbook.com.
Just how much of a difference can good allergy practices make? According to a study that appeared in the 2003 Journal of Allergy and Clinical Immunology, about one-fourth of U.S. homes had levels of dust mite allergens present in a bed that were high enough to trigger asthma symptoms. Lundy is the mother of 7-year old Anne, who has had a history of severe environmental allergies like dust, grasses, trees and food allergies, Lundy has learned by practical experience the difference good practices can make in the health of her daughter. Three years ago the nutritional levels in Anne's body were so poor that her immune system was not functioning properly and the common cold was life-threatening. Anne reacted to most allergens and led a secluded life. Today, thanks to medical treatments and good allergy practices, Anne has an expansive life - dramatically different than in 2006 and rarely needs to use asthma medications. "Parents and consumers can substantially improve their own health and well being with respect to allergies by becoming educated and by being proactive," Lundy said. "There is growing consumer interest in being healthy and well naturally across the board."
Lundy is the author of The Super Allergy Girl™ Allergy & Celiac Cookbook - From A Mother Who Knows™, which is a gluten-free, dairy-free, egg-free, peanut free, tree nut free and other allergen free powerhouse of both information and recipes for beginners and advanced bakers and cooks. Lundy's three children requirements mandate the food restrictions from one with celiac disease and another with severe lgE or severe food allergies. She wrote the cookbook after finding that the recipes and mixes just didn't work with egg substitutions or were poor in taste, texture or appearance. She has taught baking classes in Western New York for many years, trained restaurants, and consulted with bakeries in New York and New Jersey. Lundy is humbled and inspired by helping others. Her book is available at http://www.TheSuperAllergyCookbook.com.
Size: 6" x 9"
Pages: 405 pages
Soft Cover, Perfect Bound
ISBN#: 978-0-9797542-0-3
Price: $28.95
Contact: Ms. Lisa Lundy
Phone: (716) 835-6392
###