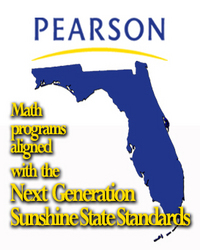 Tallahassee, FL (PRWEB) July 23, 2009
Professional development for classroom teachers is the linchpin for ensuring that instruction improves student achievement. Florida has long recognized that behind every successful student is a dedicated educator, and the importance of well-trained teachers has taken on added significance as the state prepares for the introduction of the Next Generation Sunshine State Math Standards and new K-12 math instructional programs in the school year 2010.
Pearson's newly developed, comprehensive suite of K-12 math programs for Florida includes the custom training resources and online professional development that teachers will need to implement these new standards and provide their students with a 21st century foundation in math.
Nearly a decade ago, the Florida State Legislature enacted legislation designed to improve the quality of professional development for the state's 135,000 teachers. In 2008 alone, Florida's teachers participated in 300,000 hours of professional development in math.
When recently announcing big gains in student math achievement on the state assessment, Florida Commissioner of Education Eric J. Smith gave credit to his state's dedicated teachers. Smith said, "The overall academic progress of our children is a direct result of the phenomenal work of our teachers who sacrifice daily to ensure their students are successful."
Pearson's Vice President for Florida Debbie Campbell said, "As we developed our new K-12 math programs for Florida, we knew that it was important for them to have strong support from professional development resources and tools so that our state's teachers can hit the ground running utilizing their new instructional resources to teach the Next Generation Sunshine State Math Standards."
She continued, "Florida is recognized for the high value it places on professional development for its teachers. The powerful combination of Florida's exceptional teachers and our continuum of elementary, middle and high school programs designed for our state and supported by custom professional development resources will ensure that all students are on track to build problem solving skills and a conceptual understanding of math."
As Florida officials evaluate new math programs, they will find the Pearson programs include all the resources teachers need for successful instruction embedded right in the lessons. All grade levels of Pearson's new K-12 math programs for Florida include the background for teaching each lesson, links to the appropriate Next Generation Sunshine State Standards, suggested instructional strategies and support for differentiating instruction and meeting the individual learning needs of English Language Learners and special needs students. The math background information accompanying the programs also features support for ensuring students build the skills outlined by the Science, Technology, Engineering and Mathematics (STEM) Education Coalition. In addition, with the click-of-a-mouse, teachers can turn to http://www.myPearsonTraining.com and access free online tutorials and webinars that support Pearson's Florida math programs.
http://www.myPearsonTraining.com offers K-5 teachers tutorials for teaching with both the print and digital path for enVisionMATH Florida, a newly developed, innovative, research-based curriculum customized to the Next Generation Sunshine State Math Standards. Online professional development for enVisionMATH Florida includes instructional strategies for teaching lessons aligned with the new Florida math standards as well as for using the online test generator that comes packaged with the program.
Middle school teachers, who will be teaching with Florida Mathematics 1, 2, 3, will find step-by-step training and resources on http://www.MyPearsonTraining.com, including tutorials on planning their instructional calendar for the entire school year. Beginning in 2010, the online training site also offers high school math teachers tools and resources for teaching with Prentice Hall Algebra 1, Geometry and Algebra 2 ©2011 for Florida as well as resources for working with their students who are taking Algebra IA and IB with MathXL® for School, a comprehensive Web-based curriculum.
MathXL for School also features complimentary "Teacher Refresher Courses" to help teachers brush up on math before the first day of school. Florida teachers can take advantage of these free online courses in Arithmetic Review, Prealgebra Review, Algebra Review (includes Algebra I and II) and Precalculus Review (includes College Algebra and Trigonometry).
For more information about Pearson and its new K-12 math programs for Florida, visit http://www.mathforflorida.com, an interactive Web site developed to offer in-depth information about the company's K-12 continuum of math programs developed specifically for Florida as well as activities for teaching to the current math standards and making the transition to the new standards.
About Pearson and Florida
Pearson (NYSE:PSO) has been providing learning materials to Florida schools for more than 100 years. As the world's leading education and technology company, you may know us individually as Scott Foresman, Prentice Hall, Longman, SuccessMaker, NovaNet, PowerSchool, SuccessNet, and so many more - names in the world of education that are recognized and respected across the state and the globe. We provide education and testing materials from birth through professional learning as well as the complex management systems that maintain student information data for thousands of schools. Our Pearson people are living and working in every school district across the state, and visiting teachers, principals and curriculum directors every single day. In fact, most teachers in Florida have learned their profession by studying with Pearson's Merrill or Allyn & Bacon textbooks, and many have benefited from our professional development programs.
We are your education partners today, tomorrow and for the future and will continue to invest in the very best instructional materials, teacher education, technology advancements, and services to help you and your students achieve success for generations to come. Like Florida's educators, we are stable, resilient and unwavering in our commitment to our children. The challenges of today's economy will not deter us from our mission to create innovative educational solutions customized to align with Florida's standards for 21st century learning. For more information, visit http://www.mathforflorida.com or http://www.pearsonschool.com.
Contact:
wendy.spiegel at pearson.com - 800-745-8489
###