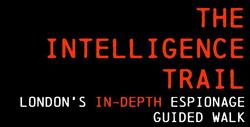 Being involved in two World Wars, the Cold War, and the Middle East remaining a constant hotspot, the intelligence services have played a pivotal - and sometimes controversial - role in all of them.
London, England (PRWeb UK) July 24, 2009
As Britain's Security Service (MI5) and Secret Intelligence Service (MI6) celebrate one hundred years of operations this Summer, The Intelligence Trail guided tour enables walkers to see the key locations where the intelligence services operated and key decisions taken, starting from 29th July.
"Considering Britain's pre-eminent role in world affairs in the last one hundred years, it is undeniable that the histories of the intelligence services can be described as 'colourful' as they played 'The Great Game' with friends and foes at home and abroad," said the Trail guide - known only as 'Mr. X'. "Being involved in two World Wars, the Cold War, and the Middle East remaining a constant hotspot, the intelligence services have played a pivotal - and sometimes controversial - role in all of them."
There is no doubt that the spy genre - the worlds of James Bond, Jason Bourne, Ethan Hunt and George Smiley - is intoxicating for many and The Intelligence Trail rightly capitalises on this. On each tour, the first customer to correctly recite a code phrase (heard on the daily Intelligence Trail Hotline, updated each morning) to 'Mr. X' receives half price entry. Discounts also exist for those coming to the morning tours accompanied by a friend or partner.
Secret tunnels and hidden passageways, covert exfiltration, 'Sex-ed up' dossiers, sexed-up agents, and famous actors and performers are all talked about on the Trail among other things. Similarly, many London commuters will be unaware that some of the London Underground and railway stations they stream through every day have been the location of key episodes. Furthermore, did MI6 have its own underground line to ferry employees to their office?
Anyone interested in intelligence affairs knows only too well that for decades after WWII Britain's intelligence services and government departments such as the Foreign Office and Admiralty had been penetrated by the Soviets. The names George Blake, William Vassall, and the members of the Cambridge Spy Ring (Anthony Blunt, Guy Burgess, John Cairncross, Donald Maclean and Kim Philby) are synonymous with Soviet success and a failure among the British to detect them before it was too late.
This however came to an abrupt end in 1971 with the expulsion of over one hundred KGB and GRU agents - from which they never recovered. Payback time was further facilitated with the recruiting of KGB officer Oleg Gordievsky, who provided MI6 with valuable intelligence from 1974 until his dramatic exfiltration from Moscow in 1985. What is less known is that Gordievsky's MI6 handler for several years - including the time of his hasty exit from Russia - was none other than John Scarlett - former head of the Joint Intelligence Committee (and 'Sex-ed up Dossier' notoriety) and current MI6 Chief.
Britain's intelligence services have always had a reputation for gizmos and gadgets - no doubt inspired by MI6's original Chief, Mansfield Smith-Cumming - but more mundane objects have made their mark on Britain's intelligence efforts. Had Hitler invaded Britain for instance, the Auxiliaries - guerrilla-like cells of the Home Guard - were trained in rigging milk churns packed with explosives underneath bridges to harass the potential invaders at every opportunity.
Fifty years later the humble milk churn played its part in giving MI6 one of the biggest intelligence coups in history, when former KGB archivist Vasili Mitrokhin and his family defected to Britain in 1992. Previously responsible for the transferring of around 300,000 secret files from the KGB's Lubyanka to a new Moscow facility, Mitrokhin began taking notes of the most interesting files whilst avoiding any suspicion from his employers.
His notes were carefully hidden in two milk churns underneath one of his countryside dachas. When the churns reached London in the diplomatic bag, they were accompanied by another four cases of material. The Russians now faced the prospect of thousands of past and present intelligence officers being identifiable to the West.
Given the common perceptions of the intelligence services however - whether from the television series 'Spooks', the recent Facebook furore, or Bond himself - it can be easy to position the services between the proverbial rock and a hard place. ''The intelligence services are accountable for their actions, without doubt.'' comments 'Mr. X'. ''They deserve criticism if there's an intelligence failure - either at ground level or at the assessment stage; losing laptops does not endear them to taxpayers either.''
''But the intelligence services are also victims of the 'business' they operate in. They do not have a well-oiled corporate PR machine peddling out 'success stories' at every given opportunity, in contrast with large commercial organisations. They can't do that. A success story for them represents failure for another organisation - a terrorist group or hostile intelligence agency for example, who can hastily change their modus operandi as a result. In this respect, it's inherently tough for them, and we should not forget there are extremely brave and dedicated men and women working in the intelligence services - and the uniformed services also - who deserve our support.''
Tours run from Wednesday through to Sunday; private group bookings can also be arranged. The Intelligence Trail rendezvous point is the Royal Marines Memorial on The Mall beside Admiralty Arch. Tours last approximately two and a half hours.
About The Intelligence Trail:
The Intelligence Trail is London's in-depth intelligence and espionage guided walk, highlighting some of the key episodes in the history of Britain's intelligence services in the last 100 years. The tour guide - 'Mr. X' - is a BA (Hons) graduate in International Relations, specialising in security affairs, and former politics and economics lecturer. For further information, visit the website or The Intelligence Trail page on Facebook.
###