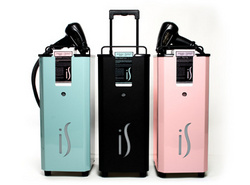 I am delighted to be able to take part in choosing the next Miss Sunset Tan. With the viewership of Sunset Tan exceeding 100 million worldwide with a rather sizable percentage being women of an impressionable age, I would really like to see the future Miss Sunset Tan as a multi-faceted natural beauty with something to impart to young women of today
Los Angeles, CA (PRWEB) July 23, 2009
The Second Annual Miss Sunset Tan Pageant at the Palms Casino and Resort in Las Vegas will be held on Sunday, July 26th . The event features 40 specially selected women from around the country competing for the title of Miss Sunset Tan 2009. Prior to all the festivities, the contestants will have customized spray tans with Infinity Sun's latest Eco-Friendly spray tanning System, Infinity Spa Lite.
Infinity Sun combines the two fastest growing industry segments: sunless tanning and high-end skincare. Infinity Sun delivers various different beauty treatment elixirs, designed to prepare the skin for spray tanning by normalizing the Ph balance of the skin, leading to a more even absorption and better results. There is also an anti-aging beauty treatment elixir that is sprayed on the skin after the sunless tan, which not only adds an additional layer of hydration to the skin but also tightens the skin reducing fine lines. This breakthrough technology delivers the appearance of tanned, healthy, radiant skin in less than five minutes that lasts for 7-14 days. The contestants will be sprayed with the Infinity Sun Shimmer Hydration elixir prior to opening night, which will give the girls a touch of glitz and glamour, making their skin sparkle under the lights.
The pageant's weekend festivities are in conjunction with the Karma Foundation's (creator's of Kandyland™ at the Playboy Mansion) Kandy Vegas™. The weekend will kick off on Friday July 24th with an opening night party at Rain Nightclub highlighted by DJ AM. The contestants preliminary round of judging begins on Saturday afternoon at the Palms Pool and will follow night with the Kandy Vegas™. Party headlined by Snoop Dogg and opening with Give Records recording artist "Jenae" and Kandy's own DJ Mister E spinning throughout the night . The Kandy Vegas™ event gives contestants the opportunity to mingle with judges, VIP's, and Celebrity participants. The pageant itself is poolside at the Palms Hotel on Sunday afternoon, and is the final determination of who'll be the new face of Sunset Tan. The winner will be crowned Sunday evening at The Playboy Club.
The Miss Sunset Tan Pageant will host a number of celebrity judges and guests including Ania Migdal (Sunset Tan), Ashley Parker Angel (O-Town/Hairspray on Broadway), Devin Haman (Sunset Tan), Erin Tietsort (Sunset Tan), Dr. Gary Motykie (Dr. 90210), Holly Huddleston (Sunset Tan), Janelle Perry (Sunset Tan), Jeff Bozz (Sunset Tan), Veronique Munro (Celebrity Spray Tanner & Founder of Infinity Sun), Josh Nasar (Comedian/ Game show Host), Molly Shea (Sunset Tan), Nick D'Anna (Sunset Tan), Robin Leach (TV Personality), Three 6 Mafia (Rap Group), War Machine (UFC), and Zowie Bowie (singer). The pageant will be hosted by Josh Nasar and the Miss Sunset Tan 2008 crown holder Bambi Lashell. Many other celebrity guests including industry VIP's will be on hand to welcome the new Miss Sunset Tan to her post.
"I am delighted to be able to take part in choosing the next Miss Sunset Tan. With the viewership of Sunset Tan exceeding 100 million worldwide with a rather sizable percentage being women of an impressionable age, I would really like to see the future Miss Sunset Tan as a multi-faceted natural beauty with something to impart to young women of today" stated Veronique Munro, Founder/CEO of Infinity Sun.
Sunset Tan garnered national recognition in 2007 with its hit E! series that chronicled the company, it's vibrant owners, an illustrious cast of employees, and a who's-who of celebrity clientele. Sunset Tan the TV show has reached over 40 million total viewers in the United States, and ranks number 1 amount Upscale Women 18-34 ($75k+). Sunset Tan reaches over 100 million viewers worldwide in 128 countries and is shown in 11 languages. The weekend pageant festivities will kick off filming for Season 3, and the Miss Sunset Tan Pageant will be featured on the show.
For more information on Infinity Sun, please visit http://www.infinitysun.com or call (323) 782-1049
###