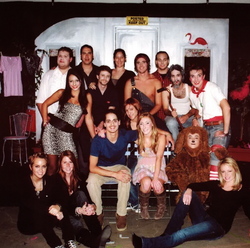 What a blessing to make something out of my past
Woodland Hills, CA (PRWEB) July 28, 2009
A student performance of Figaro's Divorce, an original musical written by music director, James Fuchs, was shown. With the impressive talent of the young cast, Sober College will have additional performances on July 25th and 26th.
From the first act, the Theater was filled with hysterical laughing and tears were rolling down cheeks as the three drunks from Figaro's Divorce put on their act.
"I went from being a drunk to playing one," reflects Zach H., whose raspy stage voice filled the role of Jr. "What a blessing to make something out of my past," he comments.
The former class clowns and school dropouts used their humor to entertain the audience once again, only this time they won't be getting kicked out of this drug rehab class. Once lost but now found, James Fuchs got this amazing group of recovering young adults to forget their struggles and show their talent off for three long nights of fighting to remember lines. Not only a hilarious musical, this production carries a hint of romance, painted perfectly by Jeff B. and Madeline T.
Witnessing the change her son has made over his stay at Sober College, "I can see the light in my son's eyes once again; what an accomplishment for him and the rest of the cast," says a parent of a cast member, almost bursting into tears of joy. The six-month process wasn't always fun and games, but that's expected with those struggling to fight a drug or alcohol addiction. Sober College has people like James Fuchs to help find an interest that some of these young adults thought they never had. "Many of these students don't know that they have so much talent and sometimes we have to step in and push them. The end result is that they really shine out there on stage," says Fuchs.
"I never thought that I would be in or even enjoy a musical, but it's really easy. I am just up there on stage being myself and it works out," says Will T. who played Sonny.
About Sober College:
Skydiving, surfing, musicals, talent shows, cliff diving and a professional recording studio doesn't seem like a typical drug rehab. Sober College prides itself on being different and being a place where young adults really get their life back on track and have some fun while doing it. Sober College students are not only putting all their focus on Drugs and Alcohol, but on the other things young adults need to have in order to live a sober and productive life. Addicts and alcoholics, especially young addicts and alcoholics think the only way to have fun and live is with drugs and alcohol and at Sober College they are shown so many other possibilities.
For Further Information:
Admissions Hotline: 800-465-0142
http://www.sobercollege.com
###