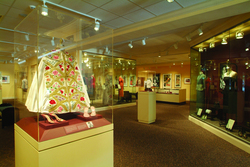 Smithfield, NC (PRWEB) July 25, 2009
Each year the Ava Gardner Museum celebrates Ava's life and career by hosting the Ava Gardner Festival. This annual event includes heritage tours, screenings of classic Ava Gardner films, and special exhibits.
This year's festival will kickoff during the Ava Gardner Festival Gala on Friday evening, October 9th and will continue Saturday, October 10th from 9:00 am to 6:00 pm. The theme for the fifth annual festival celebrates the special relationship Ava shared with Ernest Hemingway.
The Ava Gardner Museum is offering a special Festival Package that includes: access to the Festival Gala, festival-long museum admission, heritage tour passes, and movie tickets. Package price is $99.00 for two adults.
The Ava Gardner Festival Gala, scheduled for Friday, October 9th, is an exclusive event with a guest list held to only 150 attendees. A special exhibit called Ava and Hemingway will be unveiled at the Festival Gala, allowing attendees of the Gala to be the first to see the new exhibit. At the centerpiece of the exhibit will be a pocket watch given by Ava to Hemingway for his 55th birthday.
On Saturday, October 10th, heritage tours will be scheduled throughout the day. These tours will be hosted by Doris Rollins Cannon, Johnston County native and Ava Gardner biographer, and Rick Lotz, Chair of the Museum's Board of Directors. Visitors will be shown points of interest in Ava's hometown, including Ava's birthplace, the Teacherage where she grew up, the Howell Theater where Ava first went to the movies, and will end with a visit to her gravesite at Sunset Memorial Park.
Movie screenings are also scheduled for Saturday, October 10th. During her career, Ava Gardner starred in three films based on Hemingway works: The Killers, The Sun Also Rises, and The Snows of Kilimanjaro. To celebrate their special relationship, these films will be screened at the Public Library of Johnston County and Smithfield on Saturday.
For accommodations, two local hotels are offering special Ava Gardner Festival discounts. The Best Western Smithfield Inn (919-989-4047) is offering a special rate of $64.00 + tax, while the Sleep Inn & Suites of Smithfield (919-209-2360) is offering a special rate of $67.96 + tax. Call the hotel directly and mention the Ava Gardner Festival to take advantage of these special discounts.
To take advantage of the Ava Gardner Festival Package, or if you have any questions about the festival, please call the Ava Gardner Museum at 919-934-5830.
The Ava Gardner Museum is located in downtown Smithfield, at 325 E. Market Street and more information may be found on the museum website, http://www.avagardner.org or by calling 919-934-5830. The museum is open Monday-Saturday, 9am-5pm and Sunday 2pm-5pm with admission of $6.00 adults, $5.00 seniors and groups and $4.00 children.
Contact: Jessica Meadows
Executive Director
919-934-5830
# # #