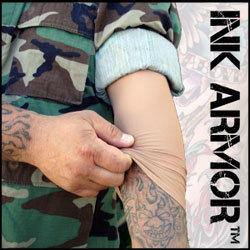 Jill and I have always been very passionate about helping people
Long Beach, CA (PRWEB) July 24, 2009
Military and law enforcement personnel who need to cover up their tattoos finally have an alternative to messy makeup or unsightly bandaids, thanks to an innovative new product: Ink Armor tattoo cover up sleeves.
The sleeves, available at Tat2X.com, come in light, suntan and black colors, and in full and half sleeve designs. They are designed to be comfortable and breathable, even in hot weather.
They offer a way for people to express themselves with tattoos and still comply with their employer's tattoo policies.
They also benefit people with extensive scarring or disfiguring skin conditions, explains Mo Nelson, co-founder of Tat2X.
The company was founded by Nelson and Jill Langner, who both have extensive backgrounds in law enforcement and the military.
Nelson is a four year US Marine Corps Veteran. After being honorably discharged from the military, Mo joined the Los Angeles County Sheriff's Department. She worked as a Deputy Sheriff for six years until she was injured on patrol and forced to medically retire. She worked for several years in the Information Technology field and is now a licensed Private Investigator with the State of California.
Jill Langner retired from the Los Angeles County Sheriff's Department after being injured on duty. Her fifteen year law enforcement career included working as a Patrol Deputy, Auto-Theft Detective and Sergeant in the L.A area.
Shortly after retiring, she became an American Red Cross volunteer. She worked with the Red Cross for two years and was deployed numerous times to the California wildfires and Hurricane Katrina.
"Jill and I have always been very passionate about helping people," Nelson explained. "We wanted to create a company that could make a difference in people's lives. That's why Tat2X is committed to donating part of all sales proceeds to the Intrepid Fallen Heroes Fund."
For additional information on the news that is the subject of this release (or for a copy), contact Mo Nelson at 888.277.8820.
About Tat2X, LLC:
Tat2X, LLC is a lifestyle brand dedicated to the working professional with tattoos, providing the very best tattoo cover up and tattoo aftercare products.
###