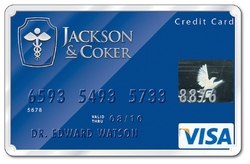 As a value-added convenience to our loyal providers, we are pleased to offer them VISA credit card issued by one of the nation's largest banks
Alpharetta, GA (Vocus) July 27, 2009
Responding to interest expressed by their locum tenens physicians to streamline their out-of-pocket business expenses, Jackson & Coker is offering a VISA credit card to their healthcare professionals working on temporary assignments.
"As a value-added convenience to our loyal providers, we are pleased to offer them VISA credit card issued by one of the nation's largest banks," mentioned Sandra Garrett, president of Jackson & Coker. "They can conveniently use the card for business-related expenses, cash advances or personal items."
Upon issuance of their personal credit cards, they can immediately use them as they see fit. The dollar amounts spent will be deducted from their reimbursement checks with no accrued interest.
"This makes it very convenient for providers who prefer using J&C's plastic over their own cash, or need a credit card for a variety of incidental items," Ms. Garrett explained. "All in all, we want to make their Jackson & Coker 'locums lifestyle' as hassle-free and comfortable as possible," she added. "We truly give the freedom of choice.
"Unlike most locum tenens agencies that require them to pay for their expenses in advance (using their own resources) and then submitting an expense report for reimbursement – Jackson & Coker issues this credit card to their providers to take care of all of their incidentals – both job related and for personal use. In short, Jackson & Coker views their providers as their family, not as their bank!
For more information concerning this service, locum tenens providers can contact Edward McEachern at 800-272-2707.
About Jackson & Coker
Jackson & Coker is a premier physician recruitment firm headquartered in metro Atlanta, Ga. that places physicians in over 40 medical specialties as well as advanced practitioners (especially CRNAs) in locum tenens (temporary) or permanent placement practice opportunities.
One of the pioneers in physician search, Jackson & Coker is the oldest and largest physician staffing firm to have received "Gold Seal" approval certification from the Joint Commission as a "Certified Health Care Staffing Service."
Also, the firm offers real-time online chat opportunity with recruiters, thus enabling busy doctors to narrow their focus on practice opportunities that are most appealing.
More information on the company's recruitment and credentialing program can be found at http://www.jacksoncoker.com.
###