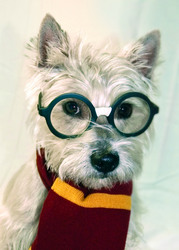 Sure, I have to help a bit (Hairy is a terrible typist), but it is all worth it
Mendocino County, CA (PRWEB) July 24, 2009
Hairy Putter, the blogger noted for his tail-wagging reviews of dining and lodging, is now the official canine voice of Mendocino County in Northern California. What started a year ago as a fun blog quickly grew, amassing fans and followers from around the world. In an effort to share the dog-friendly features of this destination (just a few hours north of San Francisco), officials have named Hairy the official Canine Ambassador of Mendocino County.
"When I first read his blogs, I thought sure, here is a dog with good taste and who appreciates service," said Scott Schneider, President of Visit Mendocino County. "But we kept getting calls on the official tourism hotline from people who said they loved his reviews. I couldn't believe it. After months of this, we just said fine, and named him our official Ambassador. But I tell you, it is not a cushy job."
Putter gained fame after his initial Four Paws Review of the bacon at Moosse Café in Mendocino Village. His fun and factual writing style covers all the vital information that any dog or pet owner would want to know about the dining experience. Recently, Putter made a special journey to Goldeneye Winery in the County's Anderson Valley. He reasoned that if the wine is good enough for the President (Goldeneye is served at the White House) it would be good enough for him. Hairy really loved the local organic cheeses, the warm focaccia and (of course!) the wine. The gorgeous gardens and super friendly staff made the experience even better. It earned the highest honor, Four Paws.
His reviews cover the gamut of pet-friendly activities, focusing mostly on restaurants, but also covering everything from beaches to shopping. All of his reviews include photos, contact information, and a one- to four-paw rating.
When asked how much the job pays, Schneider responded, "Budgets are tight everywhere, but in addition to sending Hairy out to review all these great restaurants, Visit Mendocino County is making a generous contribution to the Society for Prevention of Cruelty to Animals."
As for Hairy Putter's parent, Alan Ahtow, his life has gotten a bit more complicated. "Sure, I have to help a bit (Hairy is a terrible typist), but it is all worth it," said Ahtow. "This has all happened so fast. Hairy has great taste, but he is not a snob and is really committed to sharing vital information for others of his kind. I just hope it doesn't get to the point where he demands stretch limos with skylights he can stick his head through."
To read Hairy Putter's blog, visit http://hairyputter.wordpress.com
For more information on Mendocino County, call 866-466-3636 (866-GoMendo).
# # # #