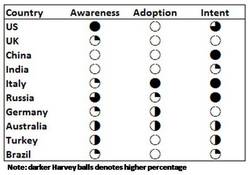 San Jose, CA (PRWEB) July 27, 2009
Techaisle's survey on current and potential purchase of notebooks with solid-state drives finds that 11 percent of SMBs across ten countries surveyed currently own at least one notebook that has a solid-state drive. The surveys were conducted in June in US, UK, Germany, Italy, Australia, China, India, Russia, Brazil and Turkey.
Highest adoption of notebooks with SSD among SMBs is in Italy, Germany and Australia. Among the emerging markets Turkey and Russia have the highest current usage. Adoption of SSD-based notebooks also varies by employee size segments with less than 10 percent adoption in the 1-4 employee size segments and over 54 percent adoption in the 500-999 category.
A little over 8 percent of small businesses are open to buying notebooks with solid-state drives irrespective of the price. This represents 1.5 million small businesses across ten countries.
There is generally a very high awareness of solid-state drive notebooks among SMBs. Of those surveyed, 62 percent were aware of solid-state drive-based notebooks. However, 66 percent of those who were aware are planning to wait for the prices to come down before purchasing a notebook with a solid-state drive. Awareness of SSD-based notebooks among SMBs is the highest in the US at 84 percent but adoption is low when compared to other mature markets among the countries surveyed.
When asked which of the PC vendors they thought currently offered notebooks with solid-state drives, 18.4 percent of SMBs who are aware of SSDs showed aided brand awareness for Dell followed by HP at 18.1 percent. Margin of error for the survey was at +-1.93 percent. Dell had the highest brand awareness among SMBs in all countries surveyed, except China where HP had a better brand awareness.
About Techaisle
Techaisle is a market research and consulting company focused on Emerging Markets, Emerging Technologies and Interactive Entertainment. Techaisle provides actionable data delivered as an answer to a specific question. Techaisle offers services in five major areas - Market Sizing; Survey Research of End Users; Survey Research of Distribution Channels; Custom Market Research; and Segmentation. Techaisle's segmentation algorithms are easily understood, easily deployable and drive actual sales and market understanding. Techaisle's blog at http://techaisle.wordpress.com is must read for SMBs and emerging market analysis and thoughts. For more information on Techaisle or its global products/services, please visit http://www.techaisle.com or call 408-914-2989.
# # #