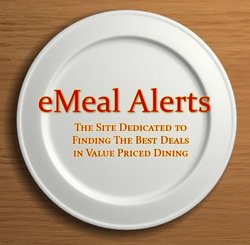 Laguna Niguel, CA (Vocus) July 24, 2009
Synergy Restaurant Consultants has launched a new website to help restaurants promote their value priced deals and restaurant promotions. Oh yeah, and did we mention that they're doing it for free?
In an effort to help consumers and business owners maximize their dollar Synergy Restaurant Consultants has developed a website where restaurants can promote their Value Priced Deals or Promotions for free. eMeal Alerts is a promotional website where users will be able to search for deals by looking in different sections, such as by National or Local Deals, or by keywords (i.e. pizza, El Pollo Loco, free, etc) that satisfy their taste or by location. In addition to the central website post, the promotion will be placed on the eMeal Alerts Facebook Page as well as "tweeted" on the eMeal Alerts Twitter feed where it can be re-posted by fans and subscribers of eMeal Alerts to a multitude of other people across the internet.
The website is currently divided into the following Main Categories to help classify your post.
•National Deals: Any chain that has the promotion being offered by all of their restaurants all across the country would be posted here.
•Local Deals: Any restaurant (or smaller restaurant group) will have its information posted here. This category has subcategories divided by state and then by metropolitan area.
•Grand Openings: Any new store openings will be posted here. If your restaurant will be at, or sponsoring an event the post will be placed here.
•Articles: Articles that may have been written about your restaurant that you would like eMeal Alerts to link to.
If you would like to participate on the eMeal Alerts website please email Michael(at)synergyconsultants(dot)com with the following information:

Title of Promotion or Event:
Date or Time Period (including expiration if applicable):
Location:
Brief Write Up (including the specific details):
Company Logo Image (jpg, png or gif):
Food or Store Images (jpg, png or gif):
Synergy Restaurant Consultants is a premier, nationally recognized restaurant consulting firm dedicated to improving the financial performance of independent and national restaurant chains. For 20 years, Synergy has been turning dreams and visions into real award-winning and financially profitable restaurants.
Synergy provides a portfolio of turn-key restaurant solutions designed to help operators develop sustainable brands and scalable concepts for growth. Our solid hands-on experience in hundreds of restaurants across the United States, Canada, South America and Saudi Arabia has made us a trusted authority on innovation and restaurant operating efficiencies. http://www.synergyconsultants.com
# # #