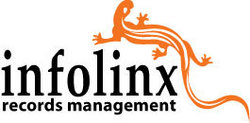 This is an exciting opportunity for us
Kensington, MD (Vocus) July 28, 2009
Infolinx System Solutions, a leading provider of enterprise physical records management software, announced an agreement with Logica, a leading IT and business services company, to implement a customized version of its flagship product Infolinx WEB within a key customer in Logica's Space & Defence sector.
"This is an exciting opportunity for us" said Tim Butler, Infolinx Managing Director. "It is very rewarding to partner with a world-class organization like Logica to provide a state-of-the-art physical records management solution for their high profile client. Our open architecture, industry leading feature-set, and extensible role-based security model have once again demonstrated our solution's competitive advantage."
Seeking to replace a highly customized, mission critical, physical records management application developed decades ago, the Client invited top tier technology providers to present appropriate solutions. The combination of Logica project management and systems integration experience, along with the rapid deployment potential of the off-the-shelf, feature-rich Infolinx WEB application convinced the Client of the likelihood of a production installed solution within their stringent time frame. "We are especially pleased" commented Butler, "to fill an important technology gap in the critical records management process of this client."
Organizations across North America and Europe are realizing immediate return on investment as they migrate from antiquated records management software and processes to contemporary online solutions. The rapid deployment of secure, scalable, browser-based applications like that found in Infolinx WEB is increasingly essential. Having provided records management consultation and software services since 1987, Infolinx has extensive experience partnering with various solutions providers to implement strategic and scalable records management applications.
About Infolinx
Infolinx System Solutions is a leading provider of enterprise physical records management software, professional business services and information management consulting products to a broad range of commercial and government clients worldwide. Infolinx solutions and services manage critical business documents from point of creation through final disposition, offering customers reduced risk and improved operational efficiencies with a verifiable return on investment. Infolinx maintains clients within all major business segments and the public sector. Visit our website Infolinx System Solutions for additional information."
About Logica
Logica is a leading IT and business services company, employing 40,000 people. It provides business consulting, systems integration, and IT and business process outsourcing services. Logica is a trusted security partner for private and public sector clients and has over 500 security professionals in Europe delivering large scale systems integration programmes, consultancy and managed services to address today's security challenges. Logica works closely with its customers to release their potential - enabling change that increases their efficiency, accelerates growth and manages risk. It applies its deep industry knowledge, technical excellence and global delivery expertise to help its customers build leadership positions in their markets. Logica is listed on both the London Stock Exchange and Euronext (Amsterdam) (LSE: LOG; Euronext: LOG). More information is available at http://www.logica.com.
# # #