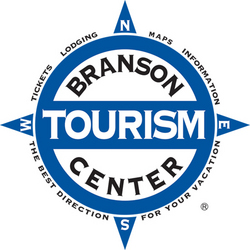 is the Muscular Dystrophy Association's Lock Up event to help raise money for MDA
Branson, MO (Vocus) July 25, 2009
It's one thing to "talk the talk," it's entirely another thing to "walk the walk." In giving the unique Christmas gift they gave to Larry and Lianne Milton, co-owners of the Branson Tourism Center (BTC), the employees of BTC "talked the talk" of community involvement, service, and helping others. In delivering that gift throughout 2009 they are "walking the walk."
Tammy Johnson, Director of Operations for Branson Tourism Center, said that as a business and as employees, Branson Tourism Center (BTC) has always been actively involved with the Branson community, charities and helping others. "The employees' gift was," she said, "a reflection of the Milton's philosophy and having the same passion for community service and helping others that they have for their employees, vendors, customer service, and the sharing of Branson."
The form of the gift was a simple eloquent statement from the employees making "the commitment to not only support community and charity events in the upcoming year, but participate and form together to raise money for those in need." In referring to the Milton's commitment to the Branson community and their passion for helping others the statement said, "As we play a part in shaping our community we will do so by following the path that you have already taken."
Tiffany Combs, Administrative Assistant for BTC said that the extra personal commitment and involvement of the employees has involved a number of events already this year with more participation planned as the events and needs occur. Employees participated in the Polar Bear Plunge for the benefit of the Special Olympics Missouri by not only helping to raise money for the Special Olympics, but by actually taking the icy February plunge into Table Rock Lake.
Combs said the employees made a major effort to raise money for the American Cancer Society's "Relay for Life" program. As part of that effort the employees held company lunches, sponsored and conducted a community wide Easter egg hunt, pumped gas, and had a "celebrity day." Combs said that, in addition, Branson Tourism Center had three teams consisting of about 30 people who actually participated in the overnight Relay for Life event.
"Among the other things that the employees are currently working on," Combs continued, "is the Muscular Dystrophy Association's Lock Up event to help raise money for MDA". During the event one or more BTC employees or representative will be "arrested and locked up." Those locked up stay that way until enough money is raised for MDA on their behalf to pay their fine and get them out of jail.
She also announced that BTC has just received its approval and supplies from the Missouri Department of Transportation for its participation in Missouri's "Adopt-A-Highway Program." BTC employees will be cleaning about a mile portion of U.S. Highway 65 going north from its intersection with Bee Creek Road in Branson. She said that although they are only required to do it twice a year they plan to do it at least four times a year.
"Branson Tourism Center and its employees are involved in numerous other community and charitable activities," she explained. Those include "Shop With A Cop;" veterans involvement through the sponsorship of the "U.S. Marine Corps Ball" and the "Hand in Hand Branson Honors Purple Heart Recipients" and other various events; Generation Rescue; Community Hospice; Ozark Area Community Action Corporation; One Passion, and many more.
Lianne Milton said, "Collectively, our employees give so much of themselves, not only to BTC and the customers we serve, but to our community and those in need." In reflecting on the special Christmas gift their employees gave them, their rationale for doing so, and their actual delivery of that gift to the community and those in need Larry Milton said, "How cool is that!"
Branson Tourism Center, LLC is one of Branson's largest providers of Branson travel services and employs about 100 people. It is an accredited member of the Better Business Bureau of Southwest Missouri. Among other organizations, it is a member of the Branson Lakes Area Chamber of Commerce and Convention and Visitors Bureau, Better Business Bureau, American Society of Travel Agents, American Bus Association, and the Branson Lakes Area Lodging Association. Branson Tourism Center may be reached by calling 1-800-978-1999.
###