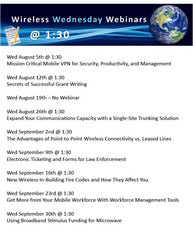 Milwaukie, OR (Vocus) July 25, 2009
Day Wireless Systems announces the Wireless Wednesday Webinar series. Beginning August 5th until the end of the year, Day Wireless Systems will host a 30-minute informative webinar, every Wednesday at 1:30 PM (PST) on various hot button issues in the wireless communications industry. The program is intended to give customers a consistent, high quality learning opportunity that is respectful of their time commitments. The full calendar complete with webinar registration links can be found on the Day Wireless News site.
Wednesday August 5th @ 1:30 - Mission Critical Mobile VPN for Security, Productivity, and Management
What is a mobile VPN, and how can it help overcome the challenges of mission-critical mobile computing, including security, connectivity, and IT management? NetMotion Wireless will provide an introduction to the Mobile VPN category, discuss its role within the broader Mobile Ecosystem and discuss specifically how agencies have maximized the productivity of their mobile workforce through a Mobile VPN.
Wednesday August 12th @ 1:30 - Secrets of Successful Grant Writing
What do grant reviewers want to see on your applications? What categories carry the most weight in their decisions? This webinar provides a high level overview of funding guidelines for various grant programs within the 2009 Recovery Act, and gives you the expert insight to write winning applications.
Wednesday August 19th - No Webinar Scheduled
Wednesday August 26th @ 1:30 - Expand Your Communications Capacity with a Single-Site Trunking Solution
Do you have a large number of employees on a single site who are organized into multiple work groups and need to share business-critical voice and data communications? Learn how Motorola MOTOTRBO Capacity plus can deliver up to five times the capacity of a traditional analog radio system. Existing MOTOTRBO users can take advantage of a simple software update to double the capacity of their digital conventional system. Learn how updating your system can prepare you for the FCC Narrowbanding deadline of 2013.
Wednesday September 2nd @ 1:30 - The Advantages of Point-to-Point Wireless Connectivity vs. Leased Lines
Are you currently leasing lines from the phone company to connect a remote building or office for its voice and data connectivity? Do you need to add more data capacity to your current network? Learn how point-to-point wireless Ethernet bridges stack up against leased T1 lines, what scenarios are viable for wireless, and how wireless bridges have proven to be the best investment in a tight economy for many agencies.
Day Wireless Systems is composed of 28 locations throughout the West and 175 in technical staff. Since 1969, Day Wireless Systems has been providing professional wireless services for demanding commercial, government, and mission critical public safety systems, and is the largest Motorola Premier Service Partner and Manufacturer's Representative in the USA.
For more information on Day Wireless Systems, please visit http://www.daywireless.com
###